Snoop Dogg Reacts To Seeing Old 2Pac Footage During Ari Melber Interview: 'I Feel Like Fuckin' Somebody Up'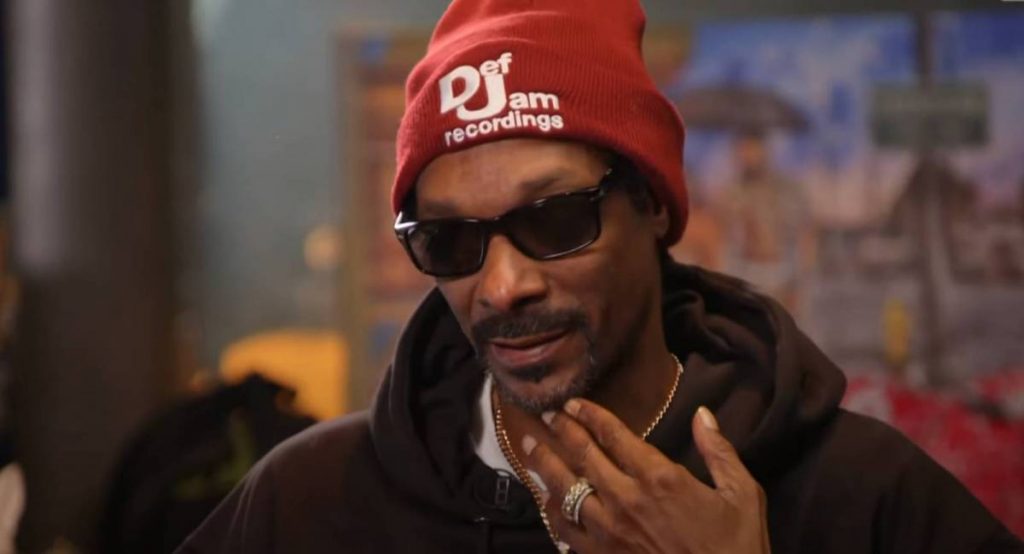 Exclusive – Snoop Dogg recently sat down with Ari Melber of MSNBC's The Beat where he was shown vintage footage of 2Pac. Although the clip was less than a minute long, its impact on the West Coast gangsta rap pioneer was undeniable and could be felt not just in the video but in the room as well.
As Melber explains to HipHopDX, "Snoop comes across as pure Snoop in person — charming, cool, funny; and intense when it's time. That intensity was palpable when we watched a clip of 2Pac's rebuke of American violence, and how it motivates people to this day."
In the clip obtained exclusively by DX, Melber presents Snoop with the montage around the two-minute mark. For roughly 50 seconds, 2Pac reflects on the plight of his people in various interviews and even talks about his desire for a "peaceful zone" in his community. But it's the last segment that really seems to affect Snoop.
"We was asking with the Panthers; we was asking with the Civil Rights Movement," 'Pac said at the time. "We was askin. Now those people that were askin', they're all dead or in jail, so what do you think we're going to do? Ask?"
Snoop Dogg hops in and answers 2Pac's question with, "Fuck no." He continues, "Now you get it. Even watching that, my spirit is bubbling right now. Like I feel like fuckin' somebody up from just hearing that just because I know it puts me in that era, that zone when our voice didn't matter back then. Things we were speaking to as far as corruption and violence and all that, they were taking it and reversing it back on us as if, 'No, you gotta problem. You're violent.'
"No. America's violent. We was peaceful. The Black Panthers was put together to bare arms and do all this peaceful stuff. Y'all came and shot them down and knocked them down, and now we don't have a voice. And now when we try to speak as rappers, you wanna lock us up and say our music is making people kill each other and this and that, and then we can't bare arms.
He adds, "All the stuff he was speaking to is happening right now, but this was 25 years ago. If we don't stand up and make a difference and make a chance, it won't change. That's why we do what we do and we movin' like we movin' right now."
Embed from Getty Images
Snoop is presumably referring to rap lyrics being used as evidence in criminal trials, a hot topic since Young Thug and Gunna were arrested on RICO charges in May. As he explains, 2Pac was "angry" at the system, the same system he says was designed to "bring the Black man down."
"Remember [2Pac] was a Black Panther, so he's seeing directly how the Black Panthers organized to help out the Black community, put back into helping the kids and just structure us as far as having our own values," he says at the beginning of the clip. "We made a difference. We was able to do something. We was able to have a voice. We was able to move mountains. We was able to unite people, and we was even able to unite color lines. 2Pac loved all people and I love all people. We didn't just make music for Black people. We were trying to help Black people because we seen what was done to us when we tried to help each other."
At one point, Melber asks Snoop where 2Pac would be today had he not been gunned down at a Las Vegas intersection in 1996. He replies, "Right where I'm at or further" — not a stretch of the imagination by any means. 2Pac's music still resonates with multiple generations over 25 years after his murder.
"You gotta think about it, it's the gospel," Snoop says of 2Pac's catalog. "He was all about the people. 2Pac was in the streets, for the streets, for the people. Just imagine what he was doing at 25. That was 25 years ago, so he only got to live half of what I'm doing, but he was so ahead of the game that things he was saying from 25 years ago resonate right now."
The Beat continues to dominate in ratings and streaming, doubling CNN's 6 p.m. ET audience (Nielsen). It's also the most streamed MSNBC show on YouTube, averaging an impressive 21 million online views per month. The full interview with Snoop Dogg and Ari Melber airs on MSNBC Tuesday night (August 16) at 6 p.m. ET.