Snoop Dogg's Donald Trump Salutation Puts An End To A Hip Hop Feud That Breached The White House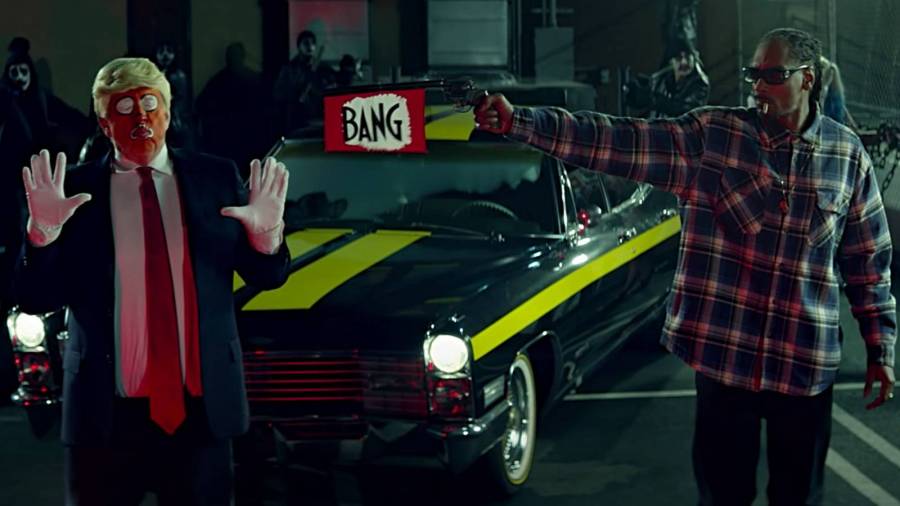 From the moment Donald Trump was elected President of the United States in 2016, Snoop Dogg has been unabashedly critical of the former reality TV star. But that all seemed to come to a ceremonious end on Tuesday (January 19) when Trump issued a pardon to Death Row Records co-founder Michael "Harry-O" Harris, who's been incarcerated at Lompoc Federal Correctional Institution since 1988 for attempted murder and kidnapping.
Despite Snoop's disdain for the embattled public figure, he'd been quietly working behind the scenes with producer Weldon Angelos and activist Alice Johnson — who have both previously received pardons from Trump — in a "last-ditch effort" to get Harris out of prison. Just as Trump's presidency was coming to a close, he issued 143 pardons and commutations late Tuesday and sure enough, Harris was on the list alongside Lil Wayne and Kodak Black.
According to the New York Post, Snoop was elated by the news and found it within himself to say a few kind words about Trump.
"I love what they did," he said. "That's great work for the president and his team on the way out. They did some great work while they was in there and they did some great work on their way out. Let them know that I love what they did. It is amazing what the work of God can actually bring to life to make people understand that there is a God."
View this post on Instagram
These are surprisingly congenial sentiments coming from Snoop considering their contentious past. In 2017, Uncle Snoop teamed up with Canadian instrumentalist group BADBADNOTGOOD for the controversial "Lavender (Nightfall Remix)" video, which found the West Coast gangsta rap legend pointing a fake gun at a Trump impersonator's head and pulling the trigger.
As the clips made the rounds online, Trump caught wind of the visual and immediately fired off a tweet threatening to lock him up instead of facing his own #METOO Movement allegations or the white nationalists riot in Charlottesville, Virginia that was happening around the same time.
"Can you imagine what the outcry would be if @SnoopDogg, failing career and all, had aimed and fired the gun at President Obama?" Trump tweeted at the time. "Jail time!"
Trump's attorney at the time, the now-disbarred Michael Cohen, told TMZ, "You know what's really sad is that there's so much more that Snoop can do for this country than these sort of ridiculous videos."
"Maybe something he wants to do is join my diversity coalition for Trump. Maybe what he wants to do is join Jim Brown with the Amer-I-can program, and maybe there are other things he can do in order to help the inner cities get past the violence and the drugs and the killings that are going on, instead of showing more killings."
Although Snoop remained silent and refused to further engage, he wasn't quiet for long. During a 2018 interview with DJ Suss on Sirius XM, Snoop didn't hold back when speaking on politics.
"I don't give a fuck," he said "I tell 'em straight up muthafucka. If you like that n-gga [Trump] you muthafuckin' racist. Fuck you and fuck him. Now what? Draw the line. N-gga, he drew the lines. He drew the muthafuckin' lines. Before him, there were no lines. Everybody was everybody. We respected everything. We didn't trip. But n-gga, when you drew the line and start pointing muthafuckas out and singling them out n-gga, fuck y'all then, n-gga. You and them."
Snoop's comments came five months after he vowed to stop dragging Trump's name through the dirt. But deep down, Hip Hop fans know Snoop is a lovable dude and has a good heart. Even when Trump claimed to have COVID-19, Snoop wished him well in an Instagram post, writing, "Prayers out to the president and the first lady."
Now with Harris heading home and Trump out of the Oval Office, Snoop will no longer need to pull up to the White House, blunt in hand, and defiantly proclaim, "Fuck the President."