Sway Calloway + More Toast to Torae Carr As He's Named President Of Recording Academy's New York Chapter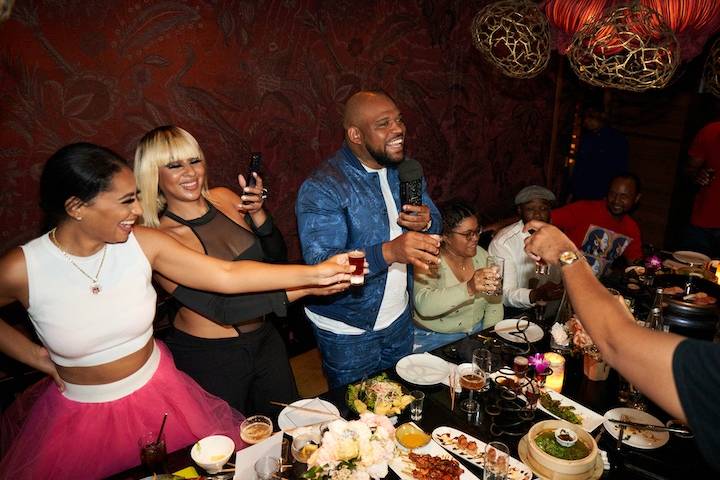 New York, NY – Veteran Shade 45 radio host and former MTV VJ Sway Calloway, VIBE's Datwon Thomas and SiriusXM's Ron Mills were among the many toasting Torae Carr at Tao Downtown in New York City on Tuesday night (July 19).
The creator and host of "The Tor Guide" on SiriusXM's Hip Hop Nation, the songwriter, actor, rapper and entrepreneur has established himself as a prominent voice in the culture. As a result, he's been named President of the Recording Academy's New York Chapter, which was cause for the Hennessy-sponsored celebratory dinner.
"Last night was a truly amazing night," Carr said in an Instagram post. "To have that caliber of people show up to celebrate meant the world to me. Having people I've encountered throughout the business grow into family is a part of the journey I never knew could occur.
"Every aspect of my career was represented in some way at that table last night and I'm forever grateful. And according to the words spoken the New York chapter of the Recording Academy has itself one hell of a new President."
View this post on Instagram
Torae Carr rose to notoriety working with DJ Premier and Marco Polo in the 2000s. After releasing his debut mixtape, Daily Conversation, in 2008, he and Polo linked for Double Barrel, which received critical acclaim. Carr was also featured in the DXNext underground Hip Hop series at HipHopDX in 2007. Over the course of his career, he's worked with producers Eric G., Black Milk and Khrysis as well as rappers Skyzoo, Sha Stimuli, Tash of Tha Alkaholiks, Teflon, Chaundon, Sean Price, Masta Ace, Wale and Nefew, among others.
Carr's debut solo album For The Record arrived in 2011 with production from Pete Rock, Large Professor, DJ Premier and 9th Wonder. His most recent project, All Praises Due, was released in 2018. Over the last four years, Carr has been focused on his radio show and new role as professor at Medgar Evers college, where he plans to educate the next generation of music industry professionals with his "Business of Music" course.