The Best Hip Hop Songs of 2021 …(so far)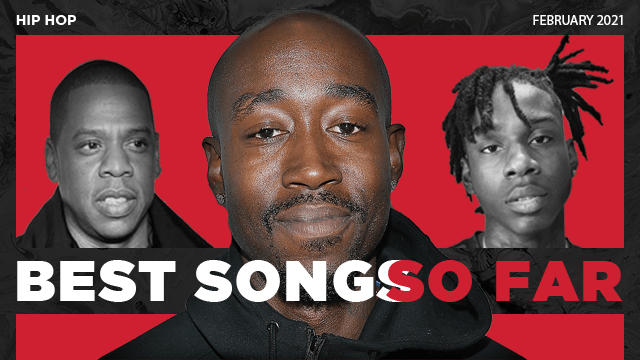 2020 felt like a decade due to all of the chaos happening in the world, but the one consistency was the amount of good music that dropped. Artists have been relatively quiet to start off the new year, but there are still plenty of quality singles for fans to enjoy. This month, the soundtrack to Judas and the Black Messiah produced new verses from JAY-Z, Nas, A$AP Rocky and even a posthumous song from Nipsey Hussle.
Every month, HipHopDX puts a spotlight on the tracks that stand out from the overabundance of releases throughout the year, highlighting everything from Billboard chart-friendly singles to essential album cuts. Check back at the beginning of every month for updates and check out our other lists and our playlist below, which includes all of the songs mentioned in this article and more:
If you're looking for a more soothing list: 

The Best R&B Songs of 2021  …(so far)

If you're looking for a more lyrical list: The Best Rap Songs of 2021 …(so far)

Check out our list of

Best Hip Hop Songs of 2020

to catch up on anything you may have missed from last year.
Editor's note: songs from this list were released between Dec. 2, 2020 – Feb. 28, 2021.
The Playlist
For your listening pleasure, here is HipHopDX's Best Hip Hop Songs of 2021 … so far.
The Top Hip Hop Songs of 2021 (December – February)
Contributing writers: Trent Clark, Kyle Eustice, Justin Ivey, Josh Svetz, Dana Scott, Brandon Caldwell, David Brake, Kenan Draughorne, Devon Jefferson & Jeremy Hecht.
"What It Feels Like" – Nipsey Hussle & JAY-Z
The triumphant brass kicking off "What It Feels Like" sounds like a coronation of the late great Nipsey Hussle's spirited vocals. He runs another victory lap in the Hip Hop community's collective heart as his "marathon continues." The collaborative single featuring JAY-Z has an uplifting, black fist-in-the-air energy, which serves as the perfect match for urban cinema's most powerful film of the new decade, Judas and the Black Messiah.
"Skegee" – JID
"Gang Signs" – Freddie Gibbs & ScHoolboy Q
"Talk To Me" – Drakeo the Ruler & Drake
Most rappers go their entire careers without a verse, or even an acknowledgment, from Drake. But Los Angeles-based rapper Drakeo the Ruler caught the attention of the 6 God. Maybe it was Drakeo's heroic plight over the LA justice system. Perhaps Drizzy was enamored by Drakeo's unflinching rapping style.
Whatever the reason, the two combined forces for "Talk To Me," a monumental landmark in Drakeo's discography which offers a rare glimpse at the reclusive Toronto-born superstar. Drake and Drakeo trade contrasting verses over production from Elias Knight, jordanwtf and E.Y. The rap world is watching to see what the newly-freed Drakeo will do with this new attention.
"LOVE" – Shordie Shordie & Murda Beatz f. Trippie Redd
Shordie Shordie is quickly becoming a true force to be reckoned with in rap. Though he's been releasing music since 2018, his latest efforts with producer Murda Beatz mark a significant new chapter in the Baltimore singer/rapper's career. "LOVE" features a perfectly-executed feature from Trippie Redd, moody 808s and soul-wrenching singing from Shordie. 
"Substance (We Woke Up)" – 03 Greedo & Wiz Khalifa
After listening to "Substance," the latest track from 03 Greedo and Wiz Khalifa, one thing became clear: Greedo is a helluva singer. Originally released in 2018 on Greedo's now-infamous The Wolf Of Grape Street, the Los Angeles-based rapper recruited the Wiz Khalifa for a revival of one of his greatest songs.
Khalifa, rapping through clouds of Zaza, drops a perky verse. The original might be over two years old, but it sounds fresher than ever.
"Last Man Standing" – Polo G
"45 SMOKE" – Slowthai
Slowthai is known for causing a raucous. When he's not performing live while holding a model of UK Prime Minister Boris Johnson's severed head, he's laying filthy bars. Tyron, the latest from the Northampton bad boy, is full of hits, but none are more potent than "45 SMOKE."
Working with Kwes Darko, Slowthai's longtime producer, the two created a malicious track, continuing the run of quality music from one of the UK's hottest acts. 
"I Gotcha" – YFN Lucci
"Rainforest" – NoName
"Prom Queen" – Smokepurpp
Smokepurpp must've been listening to the negative feedback he received from Florida Jit, his underperforming album from 2020. He's now back with PSYCHO (Legally Insane), a short EP highlighted by the intro track "Prom Queen." Purpp is back on his bullshit, tearing up his Highschool's Prom with devious intent.
As he wrangles the phenomenal beat from Mike Zara and DSC Sunny, fans are reminded of how good Purpp is at rapping. He bounces across the beat, finding and manipulating pockets with ease. "Prom Queen" is one hell of a correction.
"Jesse Owens" – Rowdy Rebel & NAV
Rowdy Rebel and NAV: what a combination. Though unlikely, the collaboration brought fans the excellent "Jesse Owens." Rowdy, newly out of prison, has been on a tear as of late. Before his release, he blessed Pop Smoke with a feature on "Make It Rain." Now, he's gearing up for a slew of new music. NAV is the true surprise, though, as he spits some of the hardest bars in his career. 
"Rich N-gga Problems" – A$AP Rocky
"Winter In America" – Freddie Gibbs
Gibbs croons a cover of late revered soul singer and rap progenitor Gil Scott-Heron and keyboardist Brian Jackson's poignant, political 1974 album title track "Winter In America" for ESPN's The Undefeated Black History Always/Music For the Movement Vol. 2 EP. Produced by Brooklyn-based jazz artist Leon Michels, the updated track contains Hip Hop-oriented uptempo duple snare kicks, cymbal taps and a sauntering piano medley than the original's downbeat marching band-style drums.
The same sobering woodwinds remain in Gibbs' version as the lyrics observe people living in a cold reality that society is still far behind achieving social justice. 
"Real N-ggas Don't Rap" – Babyface Ray
Babyface Ray isn't concerned with awards or recognition. On the opening track to his debut major label EP Unfuckwitable, the Detroit rapper details his rise, rapping apathetically with a dead eyed stare. From sleeping on air mattresses to dressing up his closet with 20K saks just out of boredom, Babyface Ray lays out his journey to becoming a rap star, shrugging at the perks of being famous outside of the money in his bank account. 
"Up" – Cardi B
One thing we know about Cardi B: she always tries to keep it interesting. "Up," the latest smash-hit from the Bronx-bred rapper, is packed with energy and spicy as always. It was met with a warm reception on TikTok and on the charts, debuting in the second slot on Billboard's Hot 100 list. Critics have been dubbing Cardi B as a flash-in-the-pan act since the start of her career. The "WAP" rapper proves, yet again, she's a mainstay in rap. 
"Hit Bout It" – Lil Yachty & Kodak Black
Kodak Black and Lil Yachty combined forces for "Hit Bout It." While Kodak was incarcerated, Yachty actively advocated on his behalf, making pleas for former President Trump to pardon the young Florida rapper. When Trump announced his list of pardons, which also included Lil Wayne, Yak was shortly freed. Though he dropped music from behind bars, "Hit Bout It," presents the Kodak fans came to love years ago. But don't overlook Yachty: the QC rapper has been barring-up his competition all 2021, and "Hit Bout It" is no different.
"Ox" – Gabe 'Nandez
New York may be dominated by the sounds of Drill, but don't get twisted — the Five Boroughs has bars. Even the older heads will become enamored with "Ox," the latest from hard-spitting New York rapper Gabe 'Nandez. 'Nandez's pen does backflips on "Ox" as he weaves his way across the 101 Beats production. Don't try to put 'Nandez in a box: you won't be successful. The burgeoning rapper can reference the Odyssey, Galactus and "bad bunnies" in the same sixteen. This is New York: all bars, no hook necessary.
"EPMD" – Nas & Hit-Boy
"I Know" – 42 Dugg, Foogiano, TG Kommas
42 Duggs and Foogiano are two of the hottest rising stars in rap right now, each releasing multiple singles and projects that have established them as bankable stars. But on Dugg's latest collaborative single "I Know," it's 21-year-old Boosie Badazz co-signed TG Kommas who shines with his chance in the spotlight, showing off his versatility singing and rapping throughout the track to deliver a performance to get his name on the radar.
"Greed" – LUCKI f. Lil Yachty
"Tequila Shots" — Kid Cudi
In many ways, Kid Cudi's The Man On The Moon III is a full-circle moment for the Cleveland-born rapper. It's the third and final act in the MOTM trilogy, a fitting nightcap for the story of Mr. Rager. "Tequila Shots" is a nod to where Cudi has been and a gaze forward to where he's heading.
It's an acknowledgement of the perpetual nature of his tortured mind, but it's also a declaration that he's stronger than his weak points. Dot Da Genius and Take a Daytrip assist Cudder in the creation of his micro-universe, plucking nostalgic sounds from the previous chapters of the MOTM saga. Of course, no great Kid Cudi song is complete without a good dash of humming and the "Day 'N' Nite" rapper is in peak form.
"Let It Breathe" – Joey Bada$$
Pro Era rap fans were undoubtedly hungry for more music from Joey Bada$$ following the release of The Light Pack EP at the tail end of 2020. That's precisely his temporally aware bars sound so refreshing on his visual single "Let It Breathe."
Complimented by the mid-tempo muddled boom-bap production provided by Statik Selektah, Joey's flow meanders between multi-tiered metaphors and brain-splitting aphorisms with the cerebral ideological might of Socrates — had the Greek philosopher hailed from New York City and pushed a lime green Porsche through the city.
"Drankin N Smokin" — Future & Lil Uzi Vert
"Sky" — Playboi Carti
After years of waiting, Whole Lotta Red — Playboi Carti's follow-up to 2018's classic Die Lit — finally arrived on Christmas. The reception was admittedly more mixed than was to be expected from a hotly anticipated album from one of rap's true superstars. But whether you love it or you hate it, the project produced some true gems, including "Sky," a synth-heavy, melody-forward anthem that has quickly outperformed its counterparts, and then went on to TikTok virality.
Art Dealer's moody masterpiece of a beat sounds like Daft Punk dipped in lean and perfectly upholds the song's structure, building drama for Carti's cathartic chorus, which is easily the best hook on the entire album. 
"Top (Remix)" — Fredo Bang f. Lil Durk
"Onna Come Up" — Lil Eazzyy
Lil Eazzyy closed out 2020 with a bang and is looking towards 2021 with big goals. His debut full-length Underrated dropped last November led by the single "Onna Come Up." Now in the new year, Eazzyy released the remix to his most popular single, adding fellow Chicago rapper G Herbo. The drill-inspired artist unloads a clip of fast raps on a Hugo Buck-produced beat. 
"Overtime" — Baby Smoove
"LeBron James" – J. Stone f. Nipsey Hussle, Dom Kennedy
All Money In rapper J. Stone has consistently elevated the legacy and memory of his dear friend, West Coast legend Nipsey Hussle, since his unfortunate death in 2019. Building onto the blueprint the Nip inspired with The Definition Of Loyalty, J. Stone continued the album saga in 2020 with The Definition Of Pain.
Embedded within the 18-track project is the "LeBron James" collaboration featuring Dom Kennedy and a posthumous verse from Hussle that makes us fall in love with the drive and leadership the Victory Lap legend embodies.
"Still Trappin" — Lil Durk f. King Von
It might be a new year, but Lil Durk picked-up right where he left off in 2020. The underdog MVP of last year, Durkio landed scores of high-profile features and released two well-received albums in Just Cause Y'all Waited 2 and The Voice. "Still Trappin," from The Voice and its subsequent deluxe edition, features the best verse from King Von since his passing last November.
Go Grizzly and Hitmaka sonically recreate the streets of O'Block with dark drums and a haunting baritone piano loop. Von and Durk had undeniably cohesive chemistry and "Still Trappin" is a reminder of what could have been.
"Throat Baby [Remix]" — BRS Kash f. DaBaby & City Girls
"My Puppy" — KEY! & Tony Seltzer
Atlanta rapper KEY! closed out 2020 with the most cohesive album of his career, The Alpha Jerk, produced in entirety by New York's underground bard Tony Seltzer. KEY! raps in a JPEGMAFIA-style stream of consciousness, pumping high-intensity bars that occasionally borderline on screaming. "My Puppy" is the standout track from an overall excellent project.
Tony pairs a whining, distorted synth with rounded, booming drums as KEY! uses the production like a playground, swinging from the monkey bars, taking rides down the slide and doing flips off the swings. 
"We Know The Truth" — Drakeo The Ruler f. Icewear Vezzo, ALLBLACK
Despite the odds stacked so strongly against him, Los Angeles rapper Drakeo The Ruler continues to succeed. For years he fought a backwards conspiracy charge while being inhumanely muzzled and locked in solitary confinement. Last year, he managed to release Thank You For Using GTL.
The album was recorded entirely over the phone from prison, which many have labeled the greatest rap album ever recorded from behind bars. Drakeo works at a breakneck pace and has released both We Know The Truth (and its deluxe) and Because Y'all Asked since his release last November. "We Know The Truth" featuring Detroit's Icewear Vezzo and burgeoning Oakland MC ALLBLACK, is a West Coast take on Midwestern Drill music.
"Nasty" — Rich The Kid f. Flo Milli, Rubi Rose
"Guard Up" — Pooh Shiesty
The Pooh Shiesty stock is skyrocketing like GameStop; the only difference is there's no crash in sight. The latest in a series of phenomenal young artists to arise from Memphis, Shiesty slid into prominence through an onslaught of single releases, including his latest "Guard Up."
Rapping is too easy for the 20-year-old spitter who takes a lackadaisical approach as he maneuvers across the TP808-produced beat, finding pockets with ease, contorting his voice to push the boundaries of the rhyme patterns. The entire rap world seems to have their eyes on Pooh Shiesty as fans await his debut album. 
"Bad Boy" — Juice WRLD f. Young Thug
"I Am" – Yung Baby Tate & Flo Milli
OTHER FAVORITES FROM JANUARY 2021
"Ain't Got TIme" –

Lil Wayne f. Foushee

"Bop" –

CJ

"Dead Broke" –

Lil Skies

"Sunshine (The Light)"

– Fat Joe, DJ Khaled & Amorphous

"State of the Union"

– Marlon Craft

"Last Day In" –

Kodak Black

"6 N Da Morning" – Los & Nutty

"Help" – Peewee Longway & Cassius Jay f. Wicced

"Trap It Out" – Peewee Longway & Cassius Jay f. Lil Baby

"Luka Brazy Gates Flow" – HoneyKomb Brazy

"My Puppy" – KEY! & Tony Seltzer

"Clinical" KEY! & Tony Seltzer

"Big Business" – Trapland Pat

"Risky" – Lil Moe 6Blocka

"GodHands" – Evilbabyjoker

"Moving Dangerous" – Kell Honcho

"Trap Mode" – YG Teck f. Pooh Shiesty

"Question For You" – YG Teck

"Gnat" – Eminem

"Oxycodone Mixture" – CEO Trayle

"Foe Minutes Of Hell" Sada Baby

"Walk Down Again" – Doe Boy

"SFX Room" – Tony Shhnow

"False Evidence Appearing Real" – Chris Crack

"AHHHHHH PT.2" – YN Jay f. Sada Baby 

"Take Out" – Jay Critch

"Breathe" – Navy Blue f. yasiin bey

"Chicken N Dumplins" – Grip

"Trapp Back" – YSN f. Foogiano

"Off The Porch" – Key Glock

"6 Foot 7 Foot" – 26AR & Tazzo B

"Chosen" – Taleban Dooda f. T9ine
OTHER FAVORITES FROM FEBRUARY 2021
"Dawn Toliver" – Drakeo the Ruler, Don Toliver, Ketchy the Great
"Get Off My Yard" – Marlon Craft
"Welcome To America" – Black Thought
"Trying To Maintain" – Ice Cube
"I Know" – 42 Dugg, Foogiano, TG Kommas
"MAZZA" – Slowthai & A$AP Rocky
"Bruuuh [Remix]" -JID, Denzel Curry
"no safety" – Baby Hot DB
"Somethin' Ain't Right" – Masego, JID, Rapsody
"A Man Apart (Intervention) – Rx Papi
"Neighbors" Pooh Shiesty ft. BIG30
"Methods" – Mavi
"Say A Prayer" – Jim Jones, Harry Fraud. Curren$y, Jay Worthy
"Grow Privately" – Chris Crack
"Freestyle" – Lil Eazzyy
"T.Titan" – Thouxanbanfauni
"Batman" – LPB Poody
"61st to 64th" – Lil Zay Osama
"Bird Box Part 2" Rx Papi ft. Boldly James
"Yucc" – Rx Papi
"Like This" – 2KBABY & Marshmello
"Go Big" – YG & Big Sean
"Money Long" – DDG f. OG Parker & 42 Dugg
"'Cosmic'.4a [The Alchemist Version Feat. Joey Bada$$] – Denzel Curry & Kenny Beats