The Best Rap Songs of 2021 …(so far)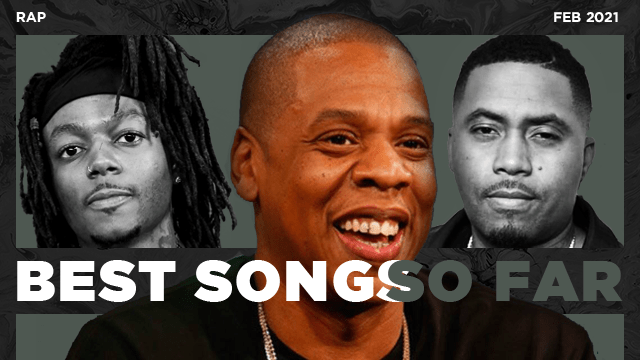 2020 felt like decades due to all of the chaos happening in the world, but the one consistency was the number of high-quality bars. While things have been quiet on the album front in the new year so far, there has been plenty of lyricism to keep rap fans engaged. This month JAY-Z, Nas, JID and more dropped top tier bars.
HipHopDX is putting a spotlight on the tracks that stand out from the overabundance of releases throughout the year, highlighting everything from Billboard chart-friendly singles to essential album cuts. Check back at the beginning of every month for updates and check out our other lists below and follow our playlist, which includes all of the songs mentioned in this article:
If you're looking for a more soothing list: 

The Best R&B Songs of 2021  …(so far)

If you're looking for a more melodic list: The Best Hip Hop Songs of 2021 …(so far)

Check out our list of

Best Hip Hop Songs of 2020

to catch up on anything you may have missed from last year.
Editor's note: songs from this list were released between Dec. 2, 2020 – Feb. 28, 2021.
The Playlist
For your listening pleasure, here is HipHopDX's Best Rap Songs of 2021 … so far.
The Top Rap Songs of 2021 (December – February)
Contributing writers: Trent Clark, Kyle Eustice, Josh Svetz, Dana Scott, Brandon Caldwell, David Brake, Kenan Draughorne, Devon Jefferson & Jeremy Hecht.
"What It Feels Like" – Nipsey Hussle & JAY-Z
The triumphant brass kicking off "What It Feels Like" sounds like a coronation of the late great Nipsey Hussle's spirited vocals. He runs another victory lap in the Hip Hop community's collective heart as his "marathon continues." The collaborative single featuring JAY-Z has an uplifting, black fist-in-the-air energy which serves as the perfect match for urban cinema's most powerful film of the new decade, Judas and The Black Messiah.
"Skegee" – JID
"Gang Signs" – Freddie Gibbs & ScHoolboy Q
"EPMD" – Nas & Hit-Boy
"Talk To Me" – Drakeo the Ruler & Drake
Most rappers go their entire careers without a verse, or even an acknowledgment, from Drake. But Los Angeles-based rapper Drakeo the Ruler caught the attention of the 6 God. Maybe it was Drakeo's heroic plight over the LA justice system. Perhaps Drizzy was enamored by Drakeo's unflinching rapping style. Whatever the reason, the two combined forces for "Talk To Me," a monumental landmark in Drakeo's discography which offers a rare glimpse at the reclusive Toronto-born superstar. Drake and Drakeo trade contrasting verses over production from Elias Knight, jordanwtf and E.Y. The rap world is watching to see what the newly-freed Drakeo will do with this new attention.
"I Know" – 42 Dugg, Foogiano, TG Kommas
42 Duggs and Foogiano are two of the hottest rising stars in rap right now, each releasing multiple singles and projects that have established them as bankable stars. But on Dugg's latest collaborative single "I Know," it's 21-year-old Boozie Badazz co-signed TG Kommas that shines with his chance in the spotlight, showing off his versatility singing and rapping throughout the track to deliver a performance to get his name on the radar.
"Last Man Standing" – Polo G
"Winter In America" – Freddie Gibbs
Gibbs croons a cover of late revered soul singer and rap progenitor Gil Scott-Heron and keyboardist Brian Jackson's poignant, political 1974 album title track "Winter In America" for ESPN's The Undefeated Black History Always/Music For the Movement Vol. 2 EP. Produced by Brooklyn-based jazz artist Leon Michels, the updated track contains Hip Hop-oriented uptempo duple snare kicks, cymbal taps and a sauntering piano medley than the original's downbeat marching band-style drums. The same sobering woodwinds remain in Gibbs's version as the lyrics observe people living in a cold reality that society is still far behind achieving social justice. 
"Rainforest" – No Name
"Real Niggas Don't Rap" – Babyface Ray
Babyface Ray isn't concerned with awards or recognition. On the opening track to his debut major label EP Unfuckwitable, the Detroit rapper details his rise, rapping apathetically with a dead eyed stare. From sleeping on air mattresses to dressing up his closet with 20K saks just out of boredom, Babyface Ray lays out his journey to becoming a rap star, shrugging at the perks of being famous outside of the money in his bank account. 
"Rich N*gga Problems" – A$AP Rocky
Let It Breathe" – Joey Bada$$
Pro Era rap fans were undoubtedly hungry for more music from Joey Bada$$ following the release of The Light Pack EP at the tail end of 2020. That's precisely his temporally aware bars sound so refreshing on his visual single "Let It Breathe." Complimented by the mid-tempo muddled boom-bap production provided by Statik Selektah, Joey's flow meanders between multi-tiered metaphors and brain-splitting aphorisms with the cerebral ideological might of Socrates — had the Greek philosopher hailed from New York City and pushed a lime green Porsche through the city.
"3:30 In Houston" – Benny The Butcher
Benny The Butcher recently revealed to DX that he actually didn't feel famous until he got shot in Houston last year during an attempted robbery. In reality, though, the incident merely boosted his star power rather than manifesting it, and "3:30 In Houston" certainly played a roll in the spike due to the ferocious lyrical nature of his rebuttal to the assailants. It's a moment in which the Griselda MC's trademarked street-enamored huste raps and tenacious hardened vernacular shine like a beacon, and serves as a testament to the strength of the chips bearing on his shoulders.
"The Hurt Business" – Westside Gunn, Smoke DZA, Wale DJ
The Griselda Conflicted film soundtrack was jam packed with the type of bars and lyrical heat that Hip Hop purists dream of. "The Hurt Business" single is like a dream-come-true as it aligns three different type of lyricists on one of the grimies, East Coast boom-bap beats of the year, thus far. Between the stabbing punchlines of Westside Gunn, the foggy finesse of Smoke DZA and Wale's deductive flow, "The Hurt Business" is like a rap masterclass on how to properly execute barred-up collaborations without losing appeal.
"Welcome Home DMX" – Dave East DJ
"Rap Up 2020" – Uncle Murda DJ
"LeBron James" – J. Stone f. Nipsey Hussle, Dom Kennedy
All Money In rapper J. Stone has consistently elevated the legacy and memory of his dear friend, West Coast legend Nipsey Hussle, since his unfortunate death in 2019. Building onto the blueprint the Nip inspired with The Definition Of Loyalty, J. Stone continued the album saga in 2020 with The Definition Of Pain. Embedded within the 18-track project is the "LeBron James" collaboration featuring Dom Kennedy and a posthumous verse from Hussle that makes us fall in love with the drive and leadership the Victory Lap rapper embodies.
"AHHHHH, Pt. 2" – YN Jay f. Sada Baby
Michigan is undeniably having a moment right now and as a result, there has been a nonstop flood of fledging artists and developing soundscapes emitting from the northern state. Flint rapper YN Jay, also known as the Coochie Man, is one the up-and-coming artists leading the charge and his "AHHHHH, Pt. 2" collaboration with Detroit's own Sada baby is like a sneak peek into the future of Michigan's music scene. It's somewhat of a cross between the scammer raps popularized by Motor City artist Teejayx6 and the drilling hype Sada's "Whole Lotta Choppas" hit record exudes.
"Joe Exotic" – Westside Boogie
"Still Trappin" — Lil Durk f. King Von
It might be a new year, but Lil Durk picked-up right where he left off in 2020. The underdog MVP of last year, Durkio landed scores of high-profile features and released two well-received albums in Just Cause Y'all Waited 2 and The Voice. "Still Trappin," from The Voice and it's subsequent deluxe edition, features the best verse from King Von since his passing last November. Go Grizzly and Hitmaka sonically recreate the streets of O'Block with dark drums and a haunting baritone piano loop. Von and Durk had undeniably cohesive chemistry, and "Still Trappin" is a reminder of what could have been.
"Onna Come Up" — Lil Eazzyy
Lil Eazzyy closed out 2020 with a bang and is looking towards 2021 with big goals. His debut full-length Underrated, dropped last November, led by the single "Onna Come Up." Now in the new year, Eazzyy released the remix to his most popular single, adding fellow Chicago rapper G Herbo. The drill-inspired rapper unloads a clip of fast raps on a Hugo Buck produced beat.  With Herbo's verse added, "Onna Come Up" Lil Eazzyy is no longer on his way up rap's hierarchy–he's already there. 
"Overtime" — Baby Smoove
"My Puppy" — KEY! & Tony Seltzer
Atlanta rapper KEY! closed out 2020 with the most cohesive album of his career, The Alpha Jerk, produced in entirety by New York's underground bard, Tony Seltzer. KEY! raps in a JPEGMAFIA-style stream of consciousness, pumping high-intensity bars that occasionally borderline on screaming. "My Puppy," is the standout track from an overall excellent project. Tony pairs a whining, distorted synth with rounded, booming drums as KEY! uses the production like a playground, swinging from the monkey bars, taking rides down the slide and doing flips off the swings. 
"We Know The Truth" — Drakeo the Ruler, Icewear Vezzo, ALLBLACK
Despite the odds stacked so strongly against him, Los Angeles rapper Drakeo the Ruler continues to succeed. For years he fought a backwards conspiracy charge while being inhumanely muzzled and locked in solitary confinement. Last year, he managed to release Thank You For Using GTL. The album was recorded entirely over the phone from prison, which many have labeled the greatest rap album ever recorded from behind bars. Drakeo works at a breakneck pace, and has released both We Know The Truth (and its deluxe) and Because Y'all Asked since his release last November. "We Know The Truth" featuring Detroit's Icewear Vezzo and burgeoning Oakland MC ALLBLACK, is a West Coast take on Midwestern Drill music.
"Guard Up" — Pooh Shiesty
The Pooh Shiesty stock is skyrocketing like GameStop; the only difference is there's no crash in sight. The latest in a series of phenomenal young artists to arise from Memphis, Shiesty slid into prominence through an onslaught of single releases, including his latest "Guard Up." Rapping is too easy for the 20-year-old MC who takes a lackadaisical approach as he maneuvers across the TP808 produced beat, finding pockets with ease, contorting his voice to push the boundaries of the rhyme patterns. The entire rap world has their eyes on Pooh Shiesty as we approach his debut album. So far he has yet to disappoint.