The Game Recalls Being 'Chased' By Tyler, The Creator After Stealing His Skateboard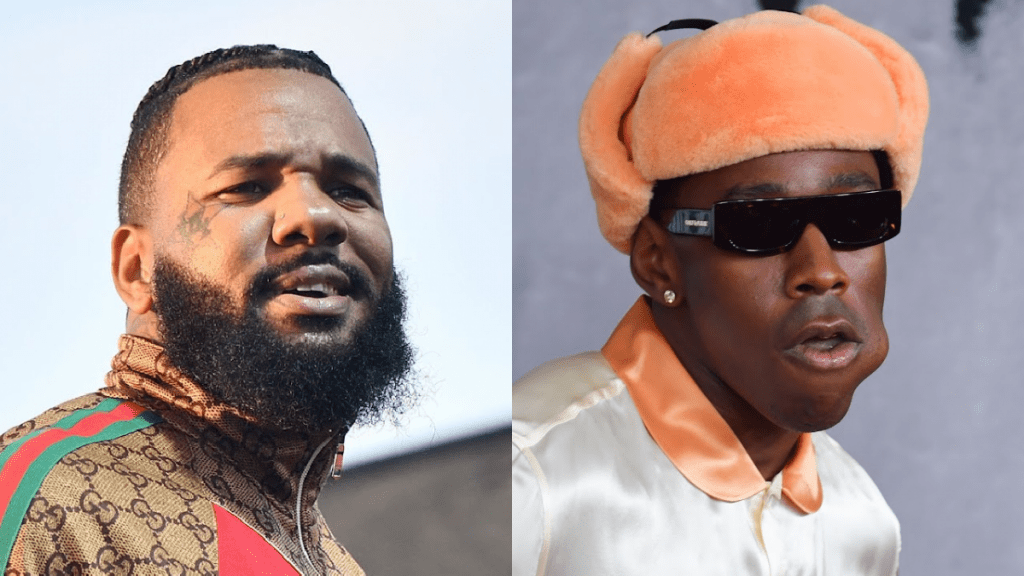 EXCLUSIVE – The Game famously teamed up with Tyler, The Creator and Lil Wayne on "Martians vs. Goblins," from his 2011 project The R.E.D. Album. The heavyweight collaboration further fueled Tyler and Odd Future's rebellious rise while bridging the gap between two generations (and styles) of West Coast Hip Hop. But The Game and Tyler's relationship runs deeper than just that song.
During a recent interview with HipHopDX ahead of the release of his new album Drillmatic on July 8, the Compton native reflected on his "big brother-little brother" relationship with the former OFWGKTA frontman and shared a hilarious anecdote involving a stolen skateboard.
"One of my favorite Tyler moments was when I pulled up in my Bentley on Fairfax at the store," he said. "He was just chilling and I jumped out the car. They thought I was coming to say what's up, but I took his skateboard and jumped back in the car and I left. He chased me down Fairfax! Obviously he wasn't faster than a Bentley."
He added, "He hit me for the next probably three or four months trying to ask me to bring his fucking skateboard back, saying that he would meet me. I don't skateboard but, you know, [for] skateboarders, the skateboard is a big fucking deal. I still got that skateboard. Tyler does asshole shit all the time so it was dope to give him a little bit of his own medicine."
Despite stealing one of his prized possessions, The Game had nothing but high praise for Tyler, The Creator, who since "Martians vs. Goblins" has won two Grammys, produced numerous TV shows and launched his own fashion brand GOLF le FLEUR, to name just a few achievements.
"What a fucking talent, an amazing guy," he said. "Everything that he does in the community, everything that he does inside music, outside of music, for his friends, putting everybody on, him and Taco and all those dope guys. I got nothing but flowers to give Tyler, man, for still being up here after what's it been, like, 10 years?
"And one of the most underrated Hip Hop artists, even though he's Tyler, The Creator and he's, you know, huge. As a rapper, I don't think he gets enough for what he contributes."
Speaking with VIBE in 2011, The Game revealed he first met Tyler at a Diddy concert and the two hit it off.
"He feels like fuck everything and I don't blame him either," he said. "It's a California thing, and I got respect for him and his hustle and what they're doing and just being kids and being rebels for the cause. And he respects me for doing what I did for California and the West Coast, I guess."
Revisit "Martians vs. Goblins" below.