'The Joe Budden Podcast' Mocks Spotify Split With Spoof Commercial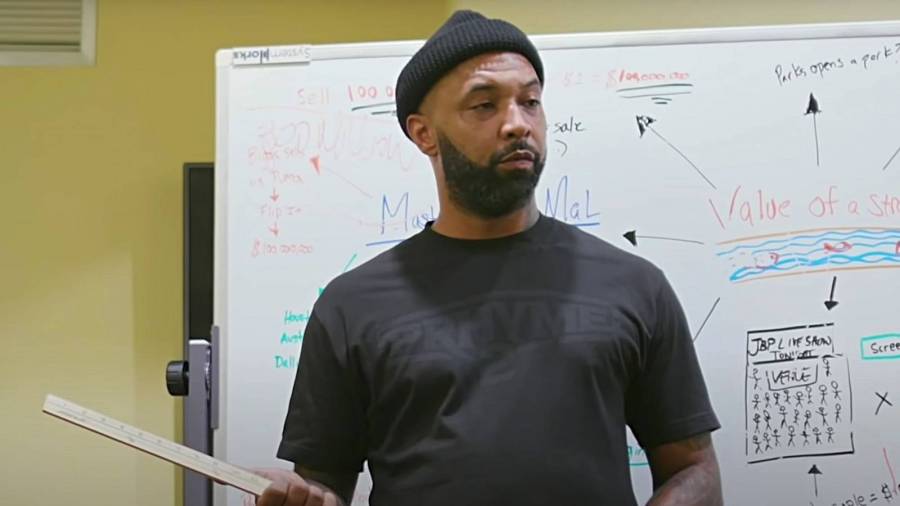 Joe Budden may have walked away from his lucrative deal with Spotify, but his sense of humor is still intact. On Wednesday (October 7), Budden and his Joe Budden Podcast brethren Mal and Rory released a comedic spot called the "JBP Commercial: The Plan," outlining what life will look like outside of Spotify.
The nearly six-minute video begins with Rory on the phone with his mother.
"Yeah mom, it's over," he says. "I don't know what the fuck he was doing either. He was just screaming like a fucking lunatic. No, we're broke again. It's over." Rory then hands the phone to manager Ian Schwartzman who says, "We're not actually broke — not yet."
Moments later, Budden enters the frame and attempts to smooth things over, but his disgruntled co-workers aren't having it. "Where's the money coming from?" someone shouts to which Rory says, "You sure fucked up the last one."
But Budden has an answer for them. After an assistant rolls out a dry erase board containing a sloppily drawn diagram, Budden goes on to explain "the value of a stream" while concocting several ideas to generate millions of dollars, including five shows a day, merch, $1 million engineering sessions, parks and "Mal Master Classes."
The Joe Budden Podcast with Rory & Mal teamed up with Spotify in August 2018 and was the platform's No. 1 podcast in 2019. But apparently not all was well behind the scenes. In August, Budden revealed he was leaving Spotify after his contract was up amid claims the company "undermined" and "undervalued" him.
"September 23, I cannot tell you where this podcast will be," Budden said at the time. "But as it stands, I can tell you where it will not be, and that is Spotify. Spotify never cared about this podcast individually. Spotify only cared about our contribution to the platform."
Last month, Budden announced he was starting his own company called The Joe Budden Network and unveiled its first show See, The Thing Is featuring singer Bridget Kelly, podcaster Mandii B and DJ Olivia Dope.
"And NOW we get to have some fun," Budden wrote in an Instagram post. "I always say on the pod there are too many topics that we can't and shouldn't touch.. and that women get to have all the fun… So I'm extremely proud/eager to introduce our new podcast 'See, The Thing Is' featuring Bridget Kelly, Mandi B and Olivia Dope.
"Bridget – You're about to KILL in this space & im just happy i get to watch. Mandi – this is a long time coming for us.. you've already seen success in this space, but watch this… lol. Olivia – I've always had a thing for Brooklyn girls (COMEDY STYLE!!)."
The show kicked off on Tuesday (October 6).
View this post on Instagram

And NOW we get to have some fun…. I always say on the pod there are too many topics that we can't and shouldn't touch.. and that women get to have all the fun… So I'm extremely proud/eager to introduce our new podcast "See, The Thing Is" featuring Bridget Kelly, Mandi B and Olivia Dope. Bridget – You're about to KILL in this space & im just happy i get to watch. Mandi – this is a long time coming for us.. you've already seen success in this space, but watch this… lol Olivia – I've always had a thing for Brooklyn girls ? (COMEDY STYLE!!) Starting 10/6 & every Tuesday thereafter you can hear these amazing ladies talk their shit (on most dsps), not sure what they'll say because I'm staying outta women's business lol… But they're bold, committed, opinionated and have a lot to say…. Hopefully that wasn't too mushy @seethethingispod @iambridgetkelly @fullcourtpumps @oliviadope @joebuddennetwork #YouCantScaleWithoutImpact #HandWoven #WatchMeWork @jnsilva