The MC With Biggest Vocabulary In Hip Hop Isn't Eminem, Black Thought, Aesop Rock Or Kendrick Lamar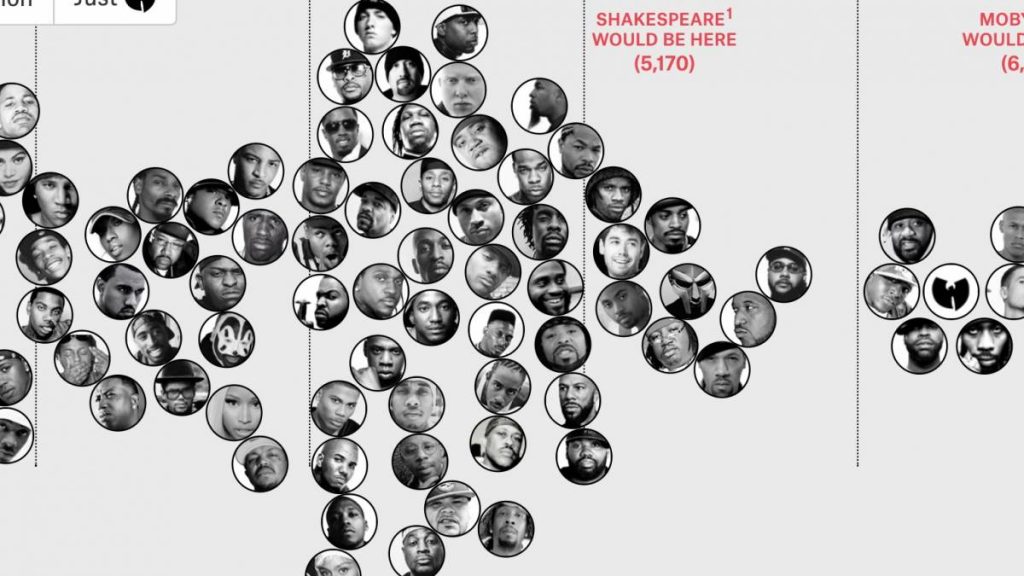 A robust vocabulary is essential when it comes to art of emceeing. In 2014, digital analyst Matt Daniels created a chart ranking rappers by their vocabulary size simply called "The Largest Vocabulary In Hip Hop." He analyzed the first 35,000 words of various rappers who would earn a point by rapping a "unique" word. A "unique" word could've been any word in the English language, but once the rapper had used the word, it would no longer count toward their score.
Daniels revisited the project in 2019 and determined Aesop Rock and Busdriver used over 6,425 unique words, thus making them among the MCs with the largest vocabularies. But apparently, there's a new king — and it's not Eminem, Black Thought or Kendrick Lamar. No, the honor goes to the inimitable Myka 9 of Freestyle Fellowship, Project Blowed, Haiku D'Etat and Magic Heart Genies.
On Monday (July 11), Myka 9 re-shared an Instagram post from Parker Pubs Press — the publishers of his new book My Kaleidoscope — comparing his vocabulary to Daniels' chart. According to the graphic, Myka employs over 9,000 unique words throughout his catalog.
"The editors of Myka 9's new book *My Kaleidoscope* analyzed his compiled and corrected lyrics to compare his vocabulary usage to Matt Daniels' chart," the caption read. "Results available here: medium.com/@prkrpubs. *My Kaleidoscope* available at myka9book.com."
View this post on Instagram
As explained in the article, Parker Pubs analyzed 35,000 words of Myka 9 lyrics. They followed the methods described in Daniels' article to ensure a valid comparison to his data. All of the lyrics were either "directly written by Myka 9 or transcribed by the editors and corrected by Myka 9." They omitted all apostrophes and possessives and standardized all numbers and contractions, until they had exactly 35,000 words of Myka 9 lyrics.
"To be recognized in Matt Daniels' Hip Hop vocabulary chart is a high honor," Myka 9 tells HipHopDX. "I've been aware of Bus Driver, GZA and Aesop [Rock] as earlier recipients of such acknowledgment. I didn't think my effort would be overlooked yet to be heralded by our peers in this collective is a crowning achievement. Maximum gratitude and utmost respect. It's all love."
After Aesop Rock was crowned the word wizard in the original study, he told DX at the time, "It's a lot of words [laughs]. I mean I knew I was wordy but when you see it in that context, you don't expect to see that. It feels cool but it's also strange. [It's] a weird thing to see in front of you, you know?"
As for Myka 9, the Los Angeles Hip Hop staple is currently on tour in Canada while promoting My Kaleidoscope. Myka announced the book last month with an Instagram post that read, "A new book by Myka 9 of Freestyle Fellowship, *My Kaleidoscope* features lyrics for 69 songs (1991-2021) and 20 photos by Brian 'B+' Cross & more.
"A detailed oral history covers his entire career from 1980s b-boy battles to the Good Life and Project Blowed, all the way up to last Tuesday — based on 20 hours of exclusive interviews with Myka 9, Abstract Rude, Spoon Iodine, JMD, Factor Chandelier, & many more. Introduction by Abstract Rude and featuring art by Mear One." Find it here. 
View this post on Instagram