The Pharcyde's Bootie Brown Denies Recording Vocals For Fatlip's Reunion Track 'My Bad'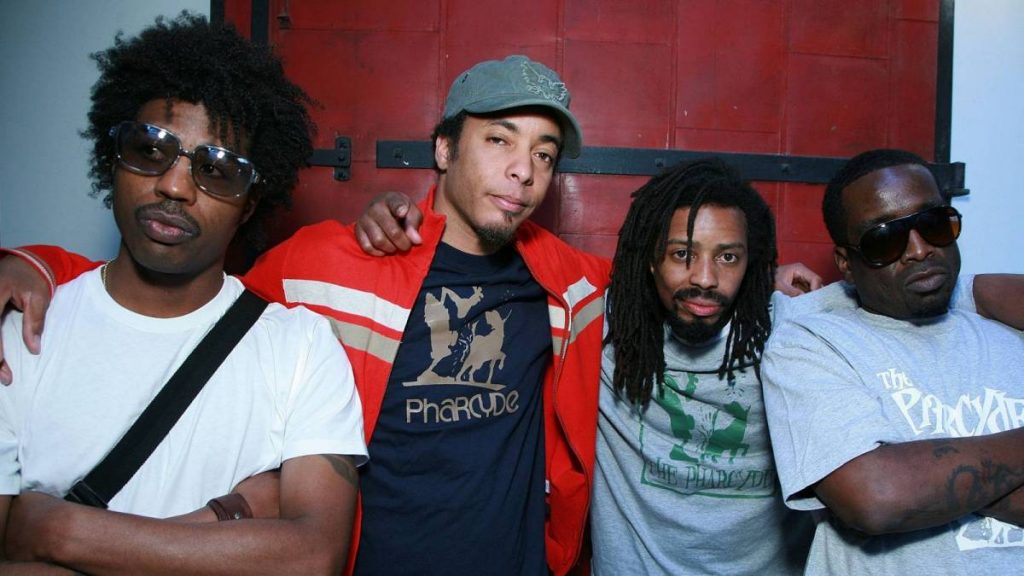 The Pharcyde's Bootie Brown has denied he gave former bandmates Fatlip, Slimkid3 and Imani permission to use his vocals for the new reunion track "My Bad."
Released on Monday (August 1), the track appears on Fatlip's new solo album Torpor alongside collaborations with Bone Thugs-n-Harmony's Krayzie Bone, ex-Death Row Records artist RBX and more.
But Bootie Brown, who retains rights to the Pharcyde name, is evidently upset it's being billed as a reunion at all. Speaking to Rolling Stone, the West Coast Hip Hop artist was adamant he had no idea his vocals were being used for the song.
"It's my voice, but they lifted the vocals from another project," he said. "I can't remember what it was. I don't know where they got the lyric or who they got it from. I definitely know it's an outside project that I did for something, but the purpose that they're using it for, I never recorded it for that. So I don't know where they got it."
But as Bootie Brown continued, he appeared to contradict himself and suddenly remember he recorded the track years ago for a song called "My Fault" in which he raps about COVID-19, so it can't be that old. He claimed it was for an up-and-coming artist that paid him $1,000 for the verse.
"I thought I was helping out someone who didn't have the opportunities," he said. "I'm not saying I was giving back, but I'm not going to break somebody's wallet but do a solid for somebody. I was totally unaware."
View this post on Instagram
Both Slimkid3 and Imani don't even remember doing the song, while Fatlip refused to address Brow's allegations. Regardless, Brown feels he was taken advantage of and blindsided by the track.
"Even if the guys from the label [Labcabin' Records] wanted to do a reunion track, I just find it weird that the other group members would let that go like that," he said. "I don't know if that's a sign of desperation, but in my book I call it weird. I don't understand why they wouldn't speak up and say, 'Hey, you know what? This is kind of wrong.'"
But as Imani explained, Fatlip presented him with the "My Bad" beat and asked if he'd be willing to record on it.
"Me and Tre had been talking on the phone and Tre was like, 'Yeah, I'm down,'" Imani said. "I don't know the situation with Bootie Brown, how that came about."
Bootie Brown ultimately spoke to Fatlip's team and claimed he felt threatened during the conversation. "They're like, 'We know you don't own the trademark in the right way, and we can go after it," he said. "And then we got to talking about everything else. And then they kind of hit me with, 'You should just do it for the love of Hip Hop.'
"It's all so confusing. Basically, I felt like nobody authorized this song to be used the way that it was, even to the point that they were trying to tell me that they wasn't trying to bill the song as Pharcyde reuniting. I didn't understand if they can get in touch with me now, how come they couldn't get in touch with me before they even put the song together?"
Producer Sccit, who crafted the track with Siavash The Grouch, is still happy with how the track turned out. In a post shared to his Instagram account on Monday (August 1), he addressed the controversy but ultimately concluded it was worth it to get some eyes on Fatlip's album.
"ITS AMAZING .. ALL THE COVERAGE ON THIS LATEST JOINT IS SINCERELY APPRECIATED," he wrote in the caption. "WITH ALL IT TOOK TO MAKE 'MY BAD' HAPPEN, ITS A GREAT FEELING TO SEE THAT ENERGY BEING RECOGNIZED. SHIT, EVEN THE PUBLICATIONS THAT TWIST SHIT AND CHASE A STORY FOR ADDED THEATRICS ARE WELCOMED.
"AS THE OLD SAYING GOES, ALL PUBLICITY IS GOOD PUBLICITY. SO THANK YOU TO @hiphopdx @rollingstone @allhiphopcom @uproxx @rockthebells @ambrosia4heads AND ALL THE REST OF YA'LL FOR KEEPIN YOUR EARS OPEN. EXTRA SPECIAL THANKS TO OUR MAIN GIRL @therealkyleeustice WHO BEEN THE TRUEST OF HEADS FROM DAY 1."