The Weeknd's $7M Super Bowl Performance Came With A Michael Jackson Nod, Bandaged Dancers & A Message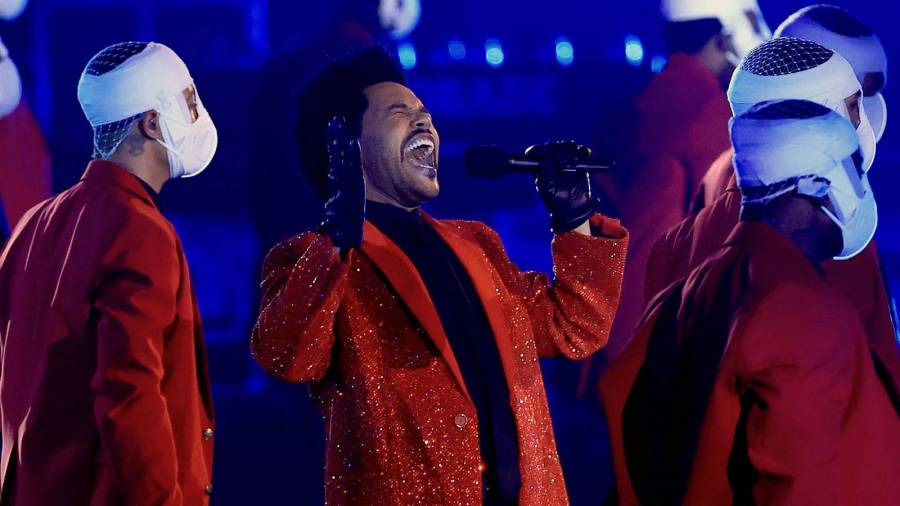 Tampa Bay, FL – The Weeknd performed a dizzying medley of some of his biggest songs during the Pepsi Super Bowl LV halftime show on Sunday (February 7). From "Call Out My Name (Intro)" and "Starboy" to "The Hills" and "Can't Feel My Face," the Canadian crooner made sure his reported $7 million investment was well worth it.
But beyond The Weeknd's signature red jacket — which took a reported 250 hours to make — the pyrotechnics, a nod to Michael Jackson's 1993 Super Bowl entrance, moves and the dozens of bandaged backup dancers, the Super Bowl performance came with an impactful message. As he explained to Variety last week, it was intended to be a continuation of his year-long narrative involving the "Heartless" video's character who was "having a really bad night."
Inspired by late Gonzo journalist Hunter S. Thompson and his Fear & Loathing In Las Vegas book, the cinematic "Heartless" visual depicts a reckless man with a death wish. As he staggers around the Sin City casinos, he licks a hallucinogenic toad and goes off into the abyss. The narrative continues with "Blinding Lights," "In Your Eyes," "Too Late" and, most recently, "Save Your Tears."
The elaborate storyline is intended to shine a light on what celebrities often do to stay "young" and "relevant" in Hollywood, which he wanted to reflect in the Super Bowl performance.
"The significance of the entire head bandages is reflecting on the absurd culture of Hollywood celebrity and people manipulating themselves for superficial reasons to please and be validated," he told Variety. "It's all a progression and we watch The Character's storyline hit heightened levels of danger and absurdity as his tale goes on."
The Weeknd troubled his fans in November 2020 when he accepted an American Music Award (AMA) wearing gauze around his head and sporting two black eyes. As with the Super Bowl, the 30-year-old artist wanted to send another message, this time about the dangers of drunk driving.
Last month, The Weeknd really freaked out his fans when he popped up on Instagram looking like he'd undergone plastic surgery. Comments such as "This is fucking scary" and "This better be fuccin fake because baybay I ain't in the mood" started flooding Twitter. But as it turned out, The Weeknd's shocking transformation was the handiwork of several talented artists who were hired for the "Save Your Tears" video.
The Super Bowl LV halftime show is getting rave reviews on social media and is currently the No. 1 trending video on YouTube, according to Chart Data. The Weeknd's fellow artists showered him with praise following the creative spectacle.
Music icon Dionne Warwick, who hilariously trolled The Weeknd last December, tweeted, "Well done @theweeknd. Loved the set and pyros. You looked and sounded great! A Big Hug and Loud Applause!! #SuperBowl," while Questlove took a more comedic approach, writing, "Lol I knew he was going to do a subtle nod to MJ's Super Bowl entrance."
Despite the glaring Grammy snub, The Weeknd still ended the past year on a high note. In addition to his AMA wins, HipHopDX gave his No. 1 Billboard 200 album After Hours an award for Best R&B Album as well as the honor for Best R&B Singer. While the Super Bowl halftime show may not be for everyone, The Weeknd ensured the millions of people who did tune in were treated to musical excellence.
Watch the full performance above.