Tory Lanez's Father Adamant His Son Is Innocent: 'This Game Ain't Over Yet'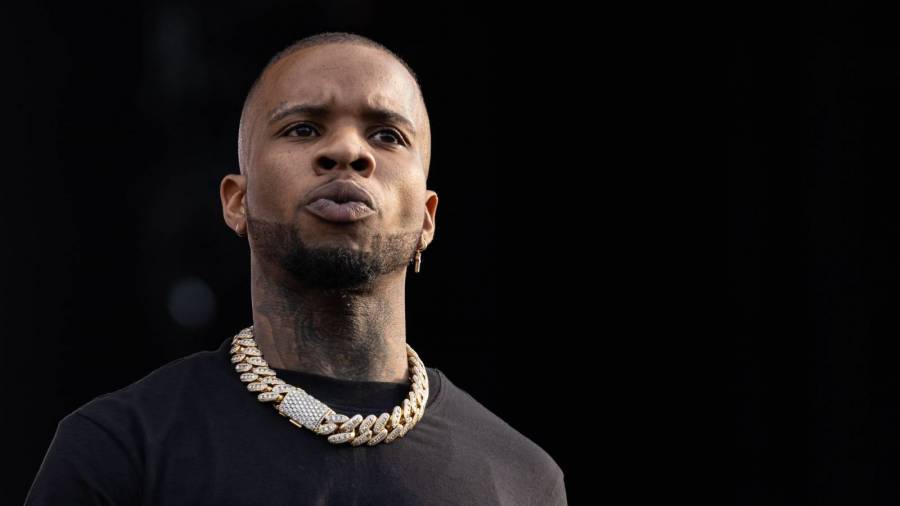 Tory Lanez is still under heavy scrutiny for his alleged involvement in the Megan Thee Stallion shooting incident earlier this year.
Although initially silent on what exactly happened on July 12, Lanez dropped an entire album called DAYSTAR on September 25 primarily dedicated to declaring his innocence. Throughout the 17-track project, he insinuated he was being framed and appeared to suggest he once had a romantic relationship with the 300 Entertainment rapper.
Now, Lanez's father Sonstar Peterson is standing up for his son. During a recent interview with Mob Radio, Peterson chastised numerous publications for their "negative" reports and said ultimately the truth will prevail.
"Here is a young man who is not going to back down," he said. "We have seen what the industry has done other Black young men. This is not a Megan-Tory thing. That's just the billboard advertising so that they can change our opinion or our attention to some other direction. This is much bigger than Megan and Tory. This is first started out as Tory versus the industry.
"Now, it's taking on a life of their own and they're scared of it because Black folks are waking up. Before the 26 of September, most people had Tory crucified. He's guilty, he's whatever. They did not expect what was about to happen, and now the tone of popular opinion is shifting."
He continued, "There have been a lot of lies that have already been told. I think a lot of these people, be it TIME magazine who put Megan on their front cover as the most influential person of the year and then put Tory in another page as being the poster child for how to block troublesome artists on your Spotify. I want y'all to know very clearly: This game ain't over yet. When the stuff really starts to come out of the closet, they will realize who was right, who was wrong."
Megan identified Lanez as the triggerman last month. But on DAYSTAR's album opener "Money Over Fallouts," he emphatically denies he's responsible for her injuries, rapping, "Girl you had the nerve to write that statement on that affidavit, knowing I ain't do it."
On Tuesday (September 29), one of Megan's friends claimed there was a voicemail out there of Lanez crying and admitting he shot Megan, but that has yet to surface. Whatever the case, Lanez and his father believe there's much more to the story.
Listen to the full interview below.