Tyler, The Creator On Voting For The 1st Time: 'I See The Light'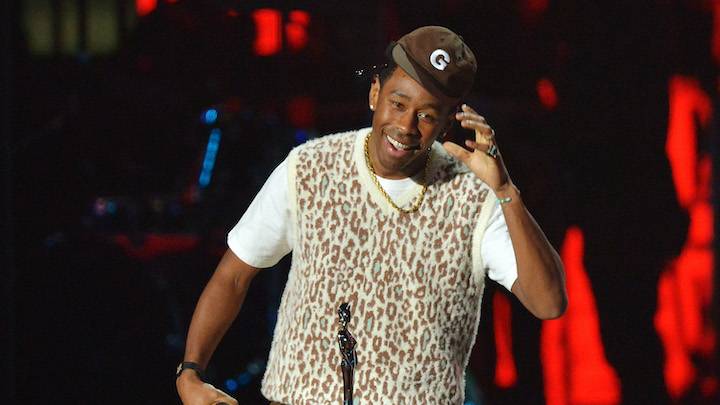 Tyler, The Creator is using his platform to urge fans to vote in the 2020 presidential election. While acknowledging he might not be the best person to listen to for advice, the Odd Future rapper wants people to make their voices heard after deciding to vote for the very first time.
In a video posted to social media on Monday (September 28), Tyler told his followers to "pull up" to polling stations or simply vote by any means.
"Look, I know I'm the last person y'all should ever take advice from, but I'm reiterating what everyone else is saying," he said. "Please, please, if you are young and your fucking back don't hurt, go to them polls and cast a fucking vote. I didn't give a fuck about none of this shit just like a lot of y'all. This is actually going to be my first time voting. I see the light."
Tyler's "see the light" comments may or may not be a reference to his IGOR song "WHAT'S GOOD," which uses those lyrics in the chorus. Some of the things he's passionate about include women's rights and making art more important in education.
"The shit that I actually give a fuck about is more art in schools and more music classes in school, and them changing the curriculum," Tyler said. "They've had the same curriculum since 1442, judging everybody on the same shit. I have female friends who need certain things, and I like being able to fuck or marry whoever the fuck I want at any given moment. If we want to keep some of those options, then we have to start somewhere."
He added, "I'm not a fucking encyclopaedia on this shit, but I know one god damn thing. If you want any of that, then y'all know what to do."
pic.twitter.com/dW2aWBaUv0

— Tyler, The Creator (@tylerthecreator) September 28, 2020
Tyler is no stranger to speaking out on things he truly believes in. At the 2020 Grammys, he called out the Recording Academy for putting him in an urban category.
"On one hand, I'm just grateful that what I made can be acknowledged in a world like this," he said. "But, also, it sucks that whenever we — and I mean guys that look like me, do anything that's genre-bending or anything — they also put it in a rap or urban category…. it's just a politically correct way to say the n-word."
Four months later, the Grammys decided to remove the Best Urban Contemporary Album category to make sure the awards were "inclusive and reflect[ed] the current state of the music industry."
Tyler isn't the only rapper who will be voting for the first time in November. In June, Snoop Dogg revealed he will also be doing the same thing after previously thinking he wasn't allowed to do so.
"I ain't never voted a day in my life, but this year I think I'mma get out and vote because I can't stand to see this punk in office one more year," he said. "For many years they had me brainwashed thinking that you couldn't vote cause you had a criminal record. I didn't know that. My record's been expunged, so now I can vote."