What Iman Shumpert Learned About The Music Business Recording His Debut Album, 'This Car Isn't Stolen'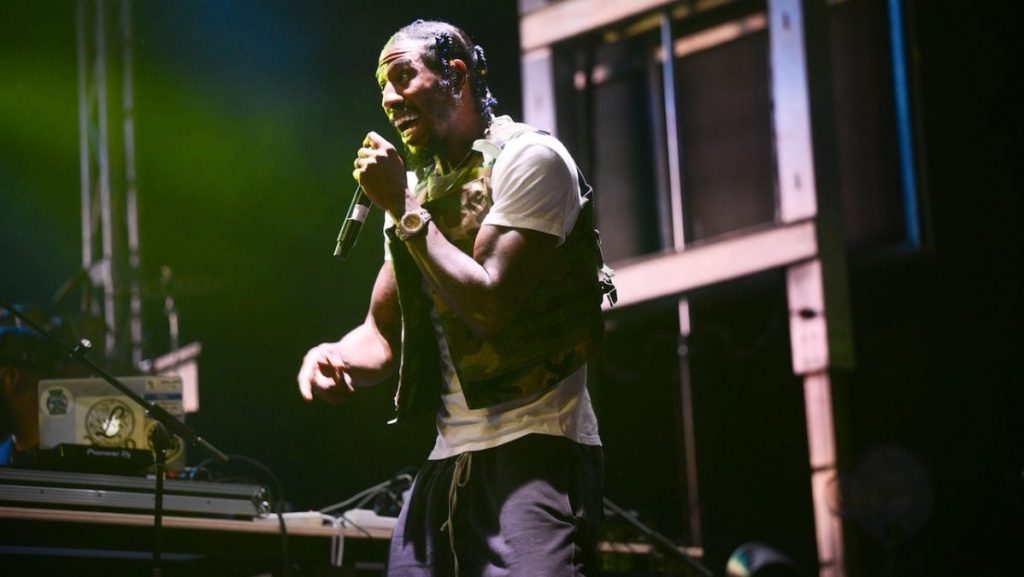 exclusive –
Iman Shumpert is the latest in a line of former professional athletes who believe with all their essence that they have what it takes to become a great musician.

For Shumpert, that music of choice is rap. Once upon a time, the 32-year-old was considered one of the most relentless perimeter defenders in the National Basketball Association. 
However, time and physical attrition have prevented the former NBA All Rookie team selection and NBA Champion (2016) from being able to consistently maintain a high level of readiness as a professional athlete. Put simply, injuries add up. Nevertheless, Iman has been honing his skills as an emcee since he was first drafted by the New York Knicks in 2012.   
The album, Iman's first studio album after releasing several mixtapes over the years, was released on his own label, A Sinners Peace Records.

Shumpert told HipHopDX that he purposefully went with producers who were less popular than others, though one he did pick is Hey Samyr, who has worked with the likes of Jadakiss and Rick Ross. 
This Car Isn't Stolen was preceded by the singles "Gohan" and "Hello." On the new project, listeners may want to lay their eardrums on "Drop Ya Glass," which shares some sonic DNA with "Let Me Blow Ya Mind" by Eve, as well as "Should Be Dead," a personal story about a near death experience that nearly befell him in his younger days. 
HipHopDX sat down with Shumpert to discuss his latest foray into the Hip Hop arena, why he felt it was necessary to do so, and how it differs from the NBA.
HipHopDX: Please explain the meaning behind the title of your album, This Car Isn't Stolen.

Iman Shumpert:  I just relate it all to cars, because you know, as a young kid, that's what you want to do. That's what I wanted to do. I wanted to drive cars, I wanted to get a car so everybody can see me ride around, you know.

You got to learn how to ride safely, you got to learn how to make jump sets, police and all that. And I'm like, bro, I want to bring it to somewhere where it's familiar. But now we can take that idea and really break it down. So if you really listen to the lyrics on the album, it's all about my old stories growing up how I became me and how I use this to now unveil a mask.

HipHopDX: What does that mean for Iman Shumpert to "unveil a mask"?

Iman Shumpert:  Take a mask off for society to say 'Oh nah, he's just a regular dude. Feet in the mud.' That's how we do, feet in the mud. But I'm saying like a regular dude, like we can hug him. If he comes to town he probably not gonna have a bunch of security telling us 'Don't touch him!' Like, he probably is gonna sit on the porch with us.

And I feel like that's what it became.  Everybody who listens to the album is like, 'I love that story. I feel like I know you a little better.' I have fans hit me up like 'I know he was from Chicago. I can hear it all in your voice. You're FROM HERE, from here.'
HipHopDX: How has the reception been thus far?
Iman Shumpert:  It's been cool. I just think that the album This Car Ain't Stolen just preaches ownership. And whenever you can preach ownership, and preach an idea of stepping up and being accountable and being a man about stuff, like if I can direct that to the right audience like this is something that I wanted done for me.
I wanted rappers to break things down into a story and something relatable. Into a story that I can relate to now, and I could comprehend. But when I get older to the age that they're at, like Andre 3000 and JAY- Z, that's when my mind is blown.  That does it for me. So I'm like, that's what I'm chasing. That's what's up.

HipHopDX: As a former professional hooper turned rapper, was there any resistance from people you asked to work with you?
Iman Shumpert:  Yeah, there were a couple of guys in the industry that, when I asked for a feature, they were sort of entertaining it, right. And I think they threw out some test questions out there when they were like, 'So what are we doing with the record? What are you really doing with the record?'They were like 'what are we doing with this record? Who's pushing the record? And who's paying for this to happen?'

And I'm looking around like, 'Bro, I don't know what you're talking about.' In my mind I'm thinking 'J. Cole dropped an album the other day. That's it and we all heard it.' I'm thinking that's just how it goes. I think that that was the result of me not doing my homework on what it really takes to work a record.
I had to just be honest with myself and put myself in a state where it's like 'Bro,  I really need to learn.' Because there were a couple of artists that were just, like, 'we came out and we're like, we're not gonna charge you for a feature or nothing like that, but you got to kind of guarantee people that you're going to do something with the verse that I just gave you. That's hours of our time. You know, you got to put something behind it to where we can make this go and we can make some money on [the] record.'
And little by little I had to learn that, I had to build a team. I had to do a lot of reading and I haven't gone to school since I was a teenager, but it's actually been cool. Like really trying to dig in and learn something that nobody told you to go learn.

I'm saying like there's so many things in life that we don't realize, somebody is telling us. You go learn to do that. You have to do this as required. And I think it's cool when you know, your older self finally gets to sit there  like 'I want to do this.'  
HipHopDX: What are some realizations you had to come to grips with regarding your music?
Iman Shumpert:  I understand that I'm not a new artist, but in the music world my music will be new to a lot of people. Especially this version of my music that's, you know, more honest. 
It's more me, more it's more about my mental health than it was for me when I was sitting down in the NBA editing like 'Oh, can't say this….can't say that!'

HipHopDX: Right, you don't have NBA commissioner Adam Silver hanging over your shoulder reading out of your rhyme book.

Iman Shumpert:  And rightfully so.  I think my 21-year-old self might scoff at it, but once you get older you're like 'oh, it's a brand and as a grown man this is worth a lot of money if you don't say that.' So why would you mess up money for 14 other players because you want to put out curse words on an album? 
But I still feel like the NBA like, though I had to do a lot of stuff like that, when I really look back at it, the NBA tries their hardest to support everything outside of the league because they too are a business, and they too understand, the more our players do, and the more light shed on our players, the more money we all make. 
So, I think the NBA does an incredible job with that, which is why I was willing to edit my words and edit what was being pushed out. I do wish I had a team back then so I could've given them to somebody, but this was part of my writing process.
HipHopDX: Who worked on this album with you?

Iman Shumpert: I pretty much went with the guys I had from go. The producers are King Samir out of Miami, OG  3Three, who is in Atlanta but is from Nashville.  Those are some of the producers that I had on there. 

Don't get me wrong, they have their accolades, but they're not, you know, huge names. I didn't want huge names on there, just because there's something about how I've seen artists that dropped their first thing. And it'll have like a couple of features and all this other stuff. And then it becomes what people expect from that artist. 
And this was more so me putting out a project and saying, you know, 'this is how I sound.  And now like, I plan to, like do a deluxe version, and I want to now bring a wave of people, but it's like, at least we know how to just come in without them really influencing the sound or influencing the story in any way.
Stream Iman Shumpert's This Car Isn't Stolen below: