XXXTENTACION's Mother Accused Of Tarnishing Her Son's Legacy Following Instagram Live Stunt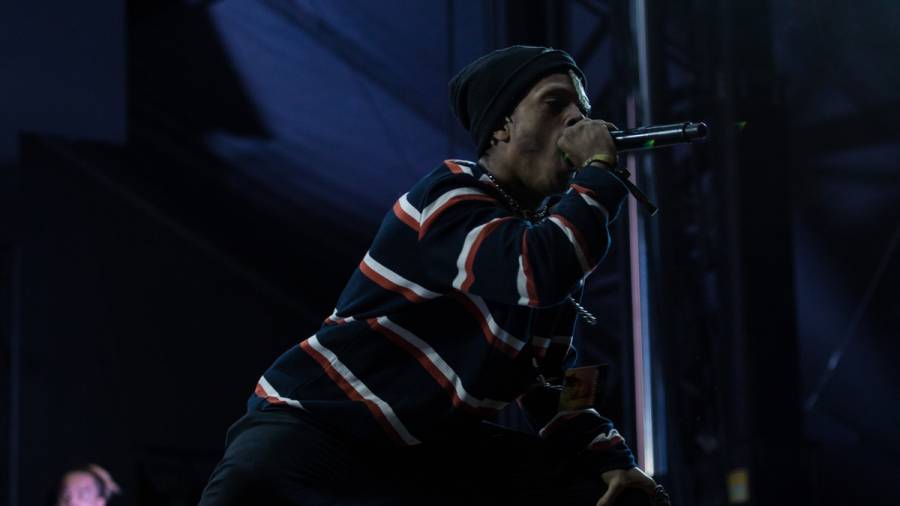 Fans of the late XXXTENTACION were fuming after his mother Cleopatra Bernard went live on his Instagram account to promote another artist. On Thursday (October 15), the late rapper's 18.2 million followers received a notification he was going live, despite being deceased for over two years.
When they tuned in, they discovered Bernard was promoting the video for the Bad Vibes Forever track "Chase/Glass Shards" featuring ikabodVEINS who she currently manages. The visual finds ikabodVEINS performing at a concert while levitating over the crowd. As X's verse begins, ikabodVEINS lipsyncs the words while images of X flash in and out of frame.
As the Live continued — which pulled in roughly 300,000 viewers – comments such as "This is disgusting however you wanna look at it" immediately started flying on Twitter. Many of X's fans accused Bernard of tarnishing her son's legacy by seemingly capitalizing on his death.
X was shot and killed outside of RIVA Motorsports in Deerfield Beach, Florida on June 18, 2018. Bernard has released two posthumous albums in the wake of his death, including the aforementioned Bad Vibes Forever and Skins. His Instagram account has been relatively untouched until this incident. Regardless of Bernard's intentions, X's fans aren't happy.
Check out some of the reactions below.
They got 300k in a few seconds cause everyone thought that dude was still alive. What the fuck is Cleo doing. Sorry but she don't give a shit about Jahseh Onfroy, she only care about XXXTENTACION.

— Dry (4-0) (@PlayoffJuJu) October 16, 2020
Stop destroying XXXTentacion's legacy.

— BlackySpeakz (@BlackySpeakz) October 16, 2020
What XXXTENTACION's label have done with his name after his death should be genuinely illegal

— All Love Hip Hop (@AllLoveHipHop) October 16, 2020
Who playing on xxxtentacion ig account… memorialized Instagram accounts (which Instagram stipulates and certifies for deceased celebrities) should not be used to be promote anything other than the person itself and should not be exploited

— DJ Akademiks (@Akademiks) October 16, 2020
View this post on Instagram

Wait.. I didn't see this live…. tell me this ain't real 🥺🥺🥺🥺🥺
i hate XXXTENTACION's label so fucking much, they made an IG live to promote his trash ass song with ikabodVEINS, X ain't even alive anymore, why milk him more and destroy his legacy

— kevin 🌎☄️💕 (@KevinWRLD1) October 16, 2020
Xxxtentacion's account just went live on Instagram. It kind of felt really disrespectful but what can you do? pic.twitter.com/YBxoK40ZTq

— weebsoz (@weebsoz) October 16, 2020
XXXTentacion's team needs to stop benefiting from his death.

— mariano 🦦 (@TheRapAgenda) October 16, 2020
xxxtentacion goes live:

God: pic.twitter.com/qO6zSB0J7M

— Blackie Chan (@bishopnope) October 16, 2020
HOW TF WAS XXXTENTACION LIVE ON INSTAGRAM JUST NOW ???? pic.twitter.com/7roEcoBDQg

— Mariah da crusty sock ᴺᴹ⁷ ⟭⟬ (@footfungusspray) October 16, 2020
Xxxtentacion's mom pic.twitter.com/Q5vqAMe15H

— ivvaan (@ivanskatesss) October 16, 2020
XXXTENTACION's label finding out another way to make a bag off his death pic.twitter.com/ecMl72DQhv

— ☄️ (@JrFlxcko) October 16, 2020