Yelawolf Made A Rock Album With Country Star Shooter Jennings – What That Means For His Hip Hop Career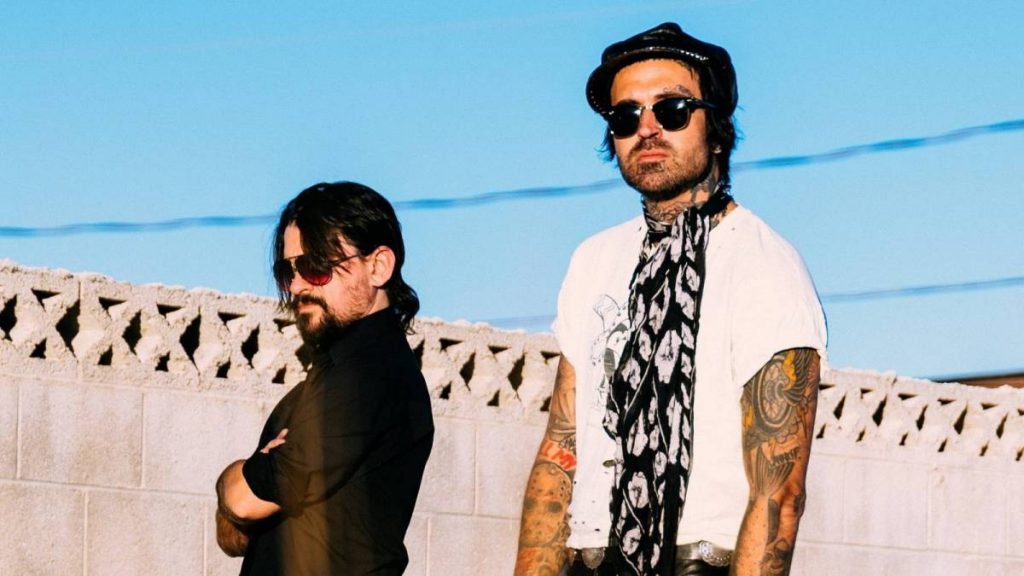 Yelawolf is cruising around Tennessee where he and his wife Fefe Dobson have a home in Hendersonville, about 25 miles north of Nashville and near Johnny Cash's old house. Shooter Jennings, the son of country royalty Waylon Jennings, joins the Zoom conversation from his home rocking sunglasses and a cowboy hat. The unlikely duo is currently doing press in support of their new group Sometimes Y, a full-on rock band primarily devoid of Yelawolf's "Pop The Trunk" rap style fans grew to love in 2010.

Their self-titled debut album is a stark departure from Yelawolf's Hip Hop roots but a powerful reminder the former Shady Records artist can actually sing – and by sing, he can really sing. One of the first singles from the project, the hard rock anthem "Make Me A Believer," finds Yelawolf showing off his vocal prowess — and it's almost shocking, especially to those unfamiliar with his catalog.
Just like there are moments on Sometimes Y where it sounds like he's rapping ("Moonshiner's Run"), there are moments on songs such as 2015's "Best Friend" featuring Eminem that he was singing. It's this versatility that continues Yelawolf's musical evolution.
"I've done a lot of singing that kind of went under the radar, so to speak, because of the musical palette that I was doing it over," Yelawolf tells HipHopDX. "So if you listen to 'Rock & Roll Baby' where I sing, 'Ruby red lipstick is sunny,' that is the same thing as, 'Ain't never been much of a church type, but I believe in the last days,' as 'Best Friend' that I did with Marshall [Mathers]. The same thing goes along with Hip Hop as well. There's been a lot of Hip Hop that I've done a lot of rapping, so to speak, that went under the radar of the Hip Hop community because it was too rock.
"Because the musical bed is too rock and roll, they don't hear the verses. The bed allows the appreciation, and that's what Shooter gave me. He gave me a platform to be appreciated with my singing voice, because I think he knew me and he studied what I did intently. He knew exactly, he had no questions about my abilities, even more so than I. I was actually really scared because the platform had been set for me and I had to fucking step it up, and he put me in the studio with the greatest musicians in the world."
At one point in the conversation, Yelawolf utters the word "transition" as if he's shedding his old rap persona for an entirely new one. But that's not necessarily the case.
"I thought about that, and although I felt that way, I knew better than to tell myself and to tell people that this was the end," he says of his Hip Hop career. "You never know. You just don't, and I love and will always love Hip Hop music and what it gave me in my relationships, friendships, career and all the opportunities, traveling the world. How could I ever turn my back on basically a family member?
"It's not something you can just turn on and off but in order for me to do this at the best of my abilities, I have to compartmentalize and to not really close the door so. Shooter said something that made all the sense. He's like, 'If you think about it like a house, you just built another room on the house.'"
He continues, "And I was like, 'Dude, yeah that's it.' That helped me make it make sense. I was even talking like, 'Dude, should I just run with [government name] Michael Wayne? Should I even carry Yelawolf into this? Should I run my name?' He's like, 'No, no, no dude. To carry that, you're going to introduce your Hip Hop fans to something they never thought was coming.'"
View this post on Instagram
Thanks to long talks with Jennings — who Yelawolf says talked him "off the ledge" — Yelawolf stuck, and the pair moved forward with Yelawolf x Shooter Jennings. Jennings, who recently made the jump from touring frontman to producer, felt having a rock album under the Yelawolf moniker would only enhance his career.
"He's given me a lot of credit, but we had a lot of talks," Jennings says. "The whole house analogy was like, 'Look, you're just adding to your toolbox. Once you accomplish this, the next project could be a mix of all of it; it could be something in a different direction. The fact he's so versatile — and that's the comment that I see the most about this stuff with people. They appreciate how versatile he is, because like you can't do that. I couldn't go cut a Hip Hop record convincingly. People would literally throw me out of the building if I did that."
Yelawolf joking interjects, "Shooter's got bars, don't let him fool you [laughs]." Now as producer (which Jennings says was "not a hard decision to make"), the Nashville native is looking forward to the March 11 release of their inaugural 10-track effort. One particular track, "Rock & Roll Baby," is undeniably autobiographical and speaks to Yelawolf's tumultuous childhood. Born to a teen mother, he was submerged in the subversiveness of a "rock and roll lifestyle" and wound up more or less raising her by the time he was an adolescent or, as he says, "It was like having a sister as a mother."
He continues, "It's a deeply personal record for sure, and some songs are just kind of waiting to happen. It's festering somewhere. Again, I use the word compartmentalized. When a melody is played, it will just pull it out of you, like it's time to let go of this part. And my mom text me when that video came out and she just said, 'Son, I'm so sorry.' That's the beauty of suffering is the gift that gives you to give other people. [The video] made it everyone's story, even though it's mine.
"But visually, now it's everyone's, and it's relatable to other kids or families or moms or whatever. Music can be extremely therapeutic. That particular song is something clearly I needed to hash out."
Sometimes Y is expected to arrive on Friday (March 11). In the meantime, check out the "Rock & Roll Baby" video below and look out for Part II of the HipHopDX interview with Yelawolf and Shooter Jennings.