Yung Bleu's Intoxicating Melodic Flows & Mogul-In-The-Making Hustle Make Him A HipHopDX Rising Star 21!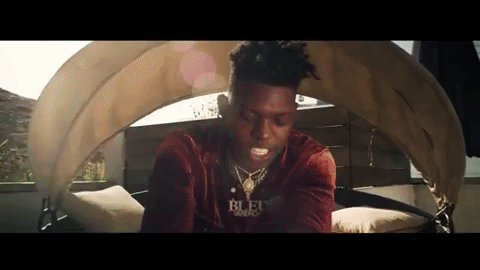 Alabama had a lot to offer the wide world of Hip Hop in 2020 following the rise of countless artists from the state's rap roll tides into the throws of mainstream music. There was a little something for everyone permeating from the Southern territory last year, with street artists like Think It's A Game Records rappers Posa and Rubberband OG emerging from their perspective street rap origins amongst the ascensions of Grammy-nominated MC Chika and HipHopDX Rising Star 2021 Flo Milli's impressive campaign.
With major co-signs from Louisiana legend Boosie Badazz and OVO monolith Drake, Yung Bleu is without a doubt one of the most hyped upcoming artists hailing from Alabama to don the crowning title of HipHopDX's Rising Star 2021.
Hometown: Mobile, AL
Notable Co-Signs: Drake, Kevin Gates, Wiz Khalifa
Notable Projects To Date: Love Scars 5: The 5 Stages Of Emotion (2020)
Accolades To Date: Drake-featured "You're Still Mine (Remix)" hit No. 32 on Billboard Hot 100; 3.8 million monthly Spotify listeners; Signed – & unsigned – to both Columbia Records & Boosie Badazz's Badazz Music Syndicate
Musical Style
Long before his mythical Drizzy collab, Yung Bleu had to do a ton of heavy lifting to position himself within the realms of R&B and street rap music equally. Due to his uncanny ability to sing and rap, Yung Bleu had carved out a discography that provides sensual late-night playlist deep-cuts like "2AM In Houston" and aggressive rap bangers like "On Cam" featuring Moneybagg Yo showcasing the liveliness of his flow that's anchored by his unique vocal inflections.
With his Bleu Vandross 3 project, Yung Bleu was able to successfully marry the two musical hemispheres his style dually thrives within and provide what he considers to be a full-blown album, unlike the previous iterations of the mixtape he feels he dumped too much R&B sound stock into.
"Like I said, this the album right here," Yung Bleu told DX in an interview last year. "This album right here different because all my other Bleu Vandross projects was all R&B. It was nothing but R&B, you feel me? And this album right here, this album right here is rap and R&B. It's like a full album. All my other Bleu Vandross projects, they was six, seven songs, you feel me? This one has 17 songs."
"Bleu Vandross 3, this is probably going to be the last Bleu Vandross. Now I ain't going to lie, it probably be somewhere in my future when I can just get big as fuck and I probably just say Bleu Vandross 4 to please all my goddamn day one fans, you feel me? Because I want to let this bitch become the classic. I want to let it live and be classic, you feel me? I don't want to drag it out too long."
Yung Bleu has continued his crooning-driven takeover of airwaves in 2021 with his recent poetic hood-love song "Ghetto Love Birds."
Rising Star Power
Aside from his peers' potent affirmations of his star power, much of the fanfare surrounding Yung Bleu was generated from the Alabama native's impressive independent run in 2020 that catapulted his moniker to be circulated among the major label artists. But his legacy lies within his years-long glow-up beginning in 2013 with his debut Investments project and deal with Columbia Records via Boosie's Badazz Music Syndicate. He maintained his mixtape series for years while also providing a consistent string of releases that eventually positioned Yung Bleu for his public coming-out party between 2017 and 2019 in which Blue delivered several cult hits that earned him numerous gold certifications from the Recording Industry Association of America for tracks like "Miss It" and his Kevin Gates assisted track "Ice On My Baby."
Finally, in 2019, Yung Bleu got his big break when Boosie agreed to allow him to exit his deal with Columbia through Badazz Music Syndicate in favor of his pursuit to become an independent artist affiliated with the Badazz brand. Following the release of his Bleu Vandross 2 mixtape, Yung Bleu established his Vandross Music Group imprint. While speaking with DX last year, Bleu revealed that he was "Badazz for life," and credits Boosie was his initial motivation to go the indie route.
"I learned a lot of the stuff that I do right now as far as just based on what I saw him do, like building his estate and shit like that," said Bleu. "He used to take me over to his house when it was getting built and when I saw Boosie had a big ass basketball court, NBA style, I'm like I got to get me an NBA-sized basketball court. I saw that nigga had the big ass pool and shit. I wanted the same thing."
The proof is pretty much in the pudding, with regards to the success Yung Bleu has experienced since paving his own way to ownership and is highlighted by Bleu Vandross' R&B-leaning track "You're Mines Still" featuring Drake. For starters, the track is a product of Yung Bleu's massive appeal considering he initially secured the Drizzy verse due to sensational word-of-mouth hype reaching the Canadian rapper from NBA player DeMarcus Cousins. Additionally, with "You're Mines Still" Yung Bleu, has hit a career milestone and locked-down his highest Billboard Hot 100 Chart appearance to date after peaking at No. 56 last year and climbing to No. 32 to start 2021.
Easily, the most impressive factor of Yung Bleu's maneuvers to become independent is the control of his trajectory since making the move. The release of "You're Mines Still" proves that he was right in his belief that he could translate knowledge he soaked up from his experience with a major label into the type of viral success they trick artists into thinking they need a label to get. He spoke about it in-depth in an interview with DX last year.
"Just looking at how things are set up," he began. "We make a hit song, we make radio and we did everything but damn why would the label want to stop? You probably be thinking like, 'Damn. Why the fuck they stopping? We supposed to keep going.' But you got to look at it like the labels really be hating sometimes, you feel me? They probably feel like that they just made they money back. Labels be wanting to see five times the profit, you feel me? Or they don't feel like they made shit."
HipHopDX will closely chronicle Yung Bleu's tracks and triumphs alike this year as he preps his upcoming studio debut album. Congratulations on Mr. Bleu Vandross himself for being a 2021 Rising Star!
Check out more of the 2021 Rising Stars here.