Yung Joc Responds To Moneybagg Yo & Ari Fletcher Dressed In His Magic City's Best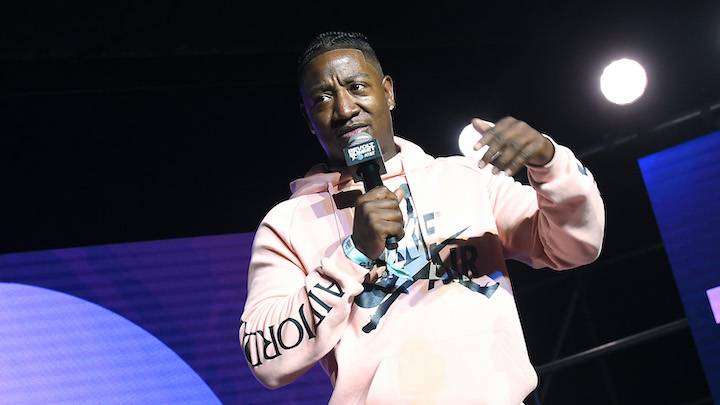 After Moneybagg Yo and Ari Fletcher both took shots at him over a meme shared on his Instagram page, Yung Joc cleared the air on Instagram Friday (October 9).
The Atlanta native reclined back in what appears to be the backseat of a luxury vehicle with a gaudy JOC chain around his neck and declared he wanted no issues with either Bagg or Fletcher.
"I didn't make that post," Joc said. "That's been circulating. When it came by my timeline it really stopped me because on one end, it really happened. I'm not disrespecting … I'm not aiming any disrespect at nobody. it was the imagery that caught my eye. With (B2K members) Lil Fizz and Omarion, we know they had a personal friendship, so on one end, that's like 'woah' but to each his own, we all grown, you choose your path."
The post in question involved a meme of Fizz with Omarion's ex Apryl Jones next to a photo of Fizz and Omarion, as well as a photo of Bagg and Fletcher next to a photo of the "Said Sum" rapper with G Herbo, the father of Fletcher's son and her ex.
He added, "Now with Bagg and G Herbo, I don't know if they have a relationship. I don't know how well they have a relationship. The depiction of the imagery … it was amazing how it made me assume the same type of situation was going on top of it. I didn't make the post, I just say it. Now, no disrespect intended to them, nobody. To Miss Ari, you can say whatever you want to say but this is me being a grown man letting it be known because, I don't want no extra smoke with nobody about a post. I didn't make the post, the post been out there. It's an old post. I repost it and it's 'Oh I'm taking shots.' I'm not taking shots at nobody."
View this post on Instagram

#youngjoc speaks on the post he made that contained a meme with #ari and #moneybaggyo
"I didn't put Fizz with Apryl. I didn't put Bagg with Ari. Respectfully so, everybody grown in the situation. You your own variable in your own equation. God bless on all that."
Bagg and Ari took Joc to task after the post circulated on social media with Fletcher pointing out Joc's stint driving for a rideshare program earlier this year. She also confirmed that Bagg and G Herbo had no previous relationship prior to Bagg and Ari dating.
"If you used to rap and now if I call a Uber X and you pull up then stay out of rich folks business," Ari wrote on Twitter. "They spent more time together when Yosohn was getting dropped off at home then they did in that picture. Please mind yo business. God bless you and your bank account."
If you used to rap and now if I call a Uber X and you pull up then stay out of rich folks business.

— KYLESISTER (@AriTheDon) October 9, 2020
They spent more time together when Yosohn was getting dropped off at home then they did in that picture.
Please mind yo business. God bless you and your bank account.

— KYLESISTER (@AriTheDon) October 9, 2020