A$AP Rocky and Rihanna Get Married in 'D.M.B.' Video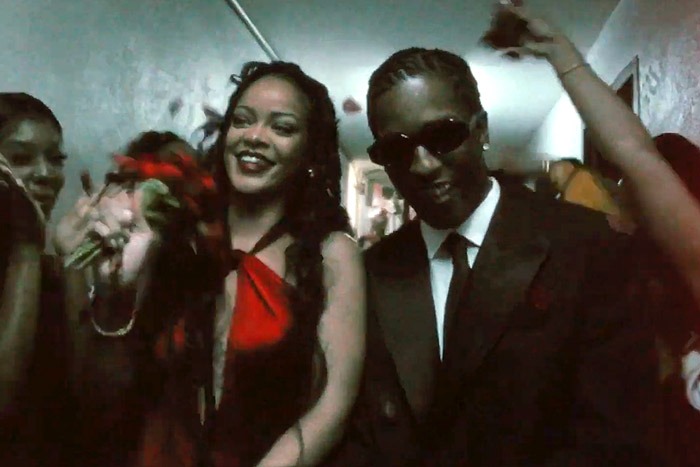 A$AP Rocky's long-awaited video for "D.M.B." is here.
Nearly one year after shooting the visual, Rocky debuts his new single, "D.M.B. (Dats Mah Bitch)." While the song doesn't feature Rihanna, his pregnant girlfriend co-stars as his leading lady in the video, which was shot in the Bronx and directed by Rocky.
In the cinematic clip, described as a "ghetto love tale," the real-life couple plays ride-or-die lovers who stick together despite the circumstances. They hold each other down through good and bad, including when Rocky goes to jail on several occasions.
They also get married, donning a pair of grillz that say "Marry Me?" and "I Do." In a scene of art imitating life, fans hold up signs that read "Free Rocky" as they walk hand-in-hand down the street.
"D.M.B." is set to appear on Rocky's upcoming album All Smiles. In an interview with GQ last year, he described the project as a "ghetto love tale" and "way more mature" than his previous work.
Last month, Rocky was arrested for assault with a deadly weapon in connection with a November 2021 shooting. Police have reportedly uncovered surveillance video, which could lead to charges. Over the weekend, he returned to the stage for the first time since his arrest at The Smoker's Club festival in San Bernardino, Calif.