AJ Jordan Is The Crescendo of Creativity and Social Commentary in Buffalo's Rap Scene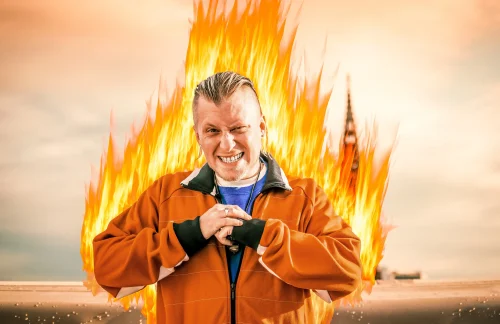 AJ Jordan The Crescendo is a Buffalo, New York-based rapper and performance artist who started his career in 1998. As a youth, he was trained by professional vocalists and chosen as one of two children from each school district throughout Western New York to perform a solo with the Erie County Chorus at the prestigious Kleinhan's Music Hall, as well as several attending grade and middle school plays as the lead character. He began writing poetry while incarcerated at a juvenile detention center at the age of 16 and later learned about rap and hip-hop during a two-year hold in a psychiatric ward. After his release, he started performing in local skating rinks and spreading burned CDs and cassettes to eager listeners. He has released several albums and mixtapes both as a solo artist and as a member of rap groups such as Underground Conspiracy, Sikosiz, and Kryptic Gate Keepaz. His music often deals with issues such as depression, financial hardships, personal relationships, social justice, and inequality.
AJ Jordan's solo debut album, "The Different Shades Of Grey," was released in 2003. He also released several UGC mixtapes, a horrorcore duo known as Sikosiz, and other creative projects such as "The Crescendovillain Mixtape" and "The KC & AJ Project: Aesthetics" between the years of 2005 and 2010. In 2012, he returned with a new image and style of completely white eyes and a sideways red baseball hat and released "Sentimental Situations" with longtime friend and associate hip-hop producer KC Lampke of L8 Beats in Buffalo, NY. In 2014, AJ Jordan collaborated with TechNoddo to release a dubstep remix album of his last album. He also created a national street team group and was able to raise $5000 in crowdsourced fundraising for a hip-hop performance tour in over 15 cities throughout the Midwest and East Coast known as "The Crescendo Across America Tour."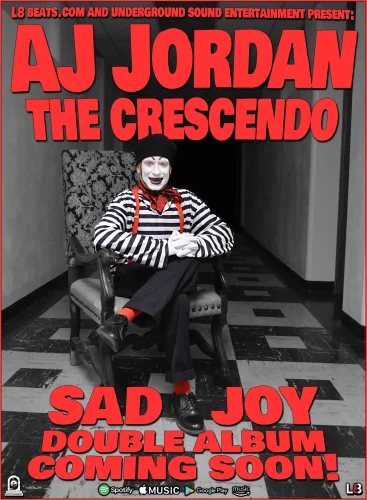 In 2016, AJ Jordan created another horrorcore rap group to pay homage to Sikosiz, which is now known as Kryptic Gate Keepaz. Together with former hypeman Spyder, they wore the same garb of black cloaks and silver and gold skull masks and crafted lyrics about the occult. In 2018, AJ released a solo mixtape titled "Operation Anonymous" with hit songs such as "The Phantastic Opera" and "Sweet Liberty (Help Us)." He toured moderately with Tech N9ne on The Planet Tour as well as opened several shows for prominent figures in the music industry such as Three 6 Mafia and Caskey with Lil' Debbie in 2018.
In 2020, AJ Jordan began releasing a set of three-chapter manifestos known as "The Crescendo LPs" throughout the course of the COVID pandemic. He performed at two live national festivals through virtual streaming services, including Majik Ninja Entertainment's NetFest with Twiztid and the Music Is Art Festival with Robby Takac of the Goo Goo Dolls. He collaborated with Jamie Madrox of the rap group Twiztid to create the song "Wake Up Underground!" and also worked with Jahred of the punk rock rap group Hed (P.E.) on an original song titled "We The Mighty," which premiered on St. Patrick's Day 2021. In another attempt at creating a rap group, he premiered 'East End Connection' in 2021 alongside Tommy Z and produced by Todd Smith. In 2022, AJ Jordan spent a year inside a huge 10,000-square-foot half-abandoned Catholic monastery church near the Finger Lakes of New York to craft a new double album titled 'SAD/JOY,' entirely produced by L8 Beats, which is set to release between the quarters of 2023 and 2024.
AJ Jordan has been compared to other rappers such as Eminem and Tech N9ne for his intentionally thought-provoking and different music. He tackles social issues and inequality through his music and has been recognized for his unique style and creativity. He has performed at various festivals and has opened for prominent figures in the music industry. He has also collaborated with other artists and continues to create new music that resonates with audiences.
References: http://www.AJJordan.Net/
© 2023, AMMPRO. All rights reserved.