Apollo the Boss Unveils Cover Art for Explosive New Single "So Fresh" featuring Snoop Dogg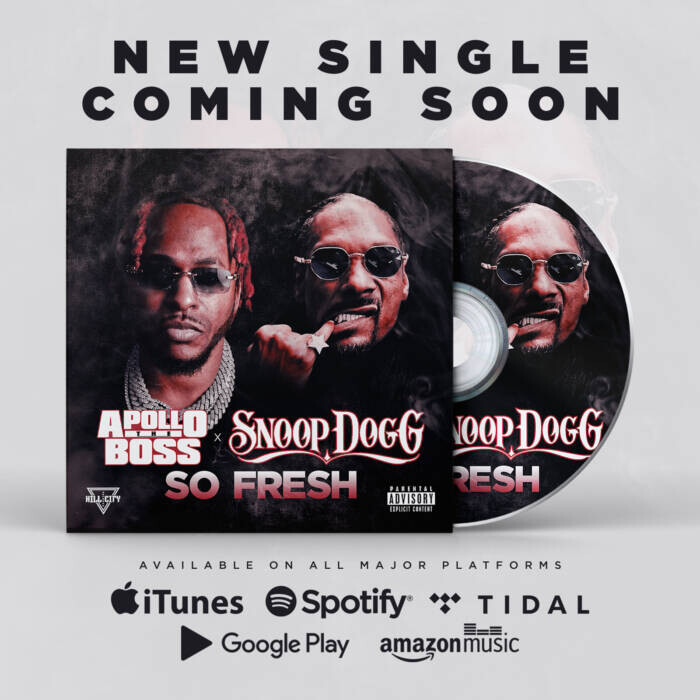 Introduction:
In an exciting development in the music industry, Worcester, Massachusetts rapper Apollo the Boss has set the stage on fire with the revelation of the cover art for his highly anticipated new single, "So Fresh." Adding to the buzz and elevating the track's appeal is the legendary Snoop Dogg, who collaborates with Apollo, further fueling the rising star's journey to the top of the music charts. With his rapid ascent, Apollo the Boss is quickly cementing his place in the industry as a force to be reckoned with.
The Rising Star from Worcester:
Hailing from the vibrant city of Worcester, Apollo the Boss has been making waves in the music scene with his distinct style and undeniable talent. His unique ability to blend infectious beats with clever wordplay and captivating storytelling has garnered him a dedicated fan base. With each release, Apollo has consistently showcased his versatility, proving himself as an artist with immense potential and staying power.
Apollo's Artistic Journey:
Having honed his skills from an early age, Apollo the Boss has worked tirelessly to perfect his craft. His journey in the music industry began with a series of mixtapes and independent releases that garnered attention from local audiences. Word quickly spread about his exceptional talent, leading to collaborations with notable artists and securing slots on major stages.
"So Fresh" featuring Snoop Dogg:
Now, with the upcoming release of "So Fresh," Apollo the Boss is poised to make an even greater impact on the national and international music scene. The collaboration with Snoop Dogg, an iconic figure in the industry, is a testament to Apollo's rising status and the respect he has garnered from his peers. The track promises to be an explosive blend of Apollo's dynamic flow and Snoop Dogg's legendary presence.
The Cover Art:
The cover art for "So Fresh" captures the essence of the track perfectly. A vibrant and energetic visual representation, the artwork showcases Apollo the Boss and Snoop Dogg in a dynamic pose, exuding confidence and charisma. The imagery hints at the electrifying energy that the single promises to deliver, leaving fans eager for the release.
Anticipation and Impact:
As news of the collaboration and cover art spreads, excitement surrounding "So Fresh" continues to build. Fans and industry insiders are eagerly anticipating the release, expecting nothing short of an incredible musical experience. With Apollo the Boss and Snoop Dogg joining forces, the track is bound to make an impact, further solidifying Apollo's rapid rise in the music industry.
Final Thoughts:
Apollo the Boss's reveal of the cover art for his upcoming single, "So Fresh," featuring Snoop Dogg, has ignited a wave of excitement among fans and the music industry alike. With his undeniable talent and the support of an industry heavyweight like Snoop Dogg, Apollo is on the cusp of reaching new heights in his career. As the release date draws near, we eagerly await the opportunity to experience the magic that "So Fresh" is set to deliver and witness Apollo the Boss's continued ascent in the music industry.OK thank God