Benny the Butcher Drops 'Timeless' with Lil Wayne & Big Sean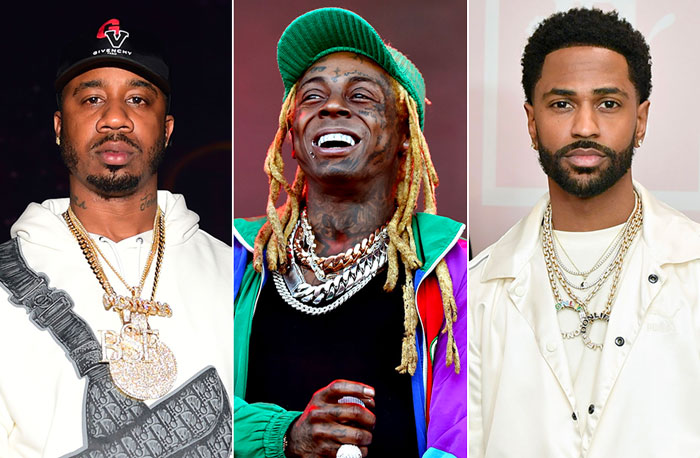 As he gears up for his highly-anticipated album Burden of Proof, Benny the Butcher drops off the first single "Timeless" featuring Lil Wayne and Big Sean.
Originally titled "Live Forever," the anthemic track was produced by Hit-Boy, who made the beat in 2011 for JAY-Z and Kanye West's Watch the Throne.
"What's a king to a god, ni**a? / I'ma live forever," raps the Griselda rapper before Weezy delivers a timeless verse. "I chopped the hands off the clock / That means I'm timeless, don't time me, I'm forever," he raps.
Sean Don, who was later added to the third verse, celebrates his come-up while putting the industry on blast. "Signed a slave deal, now a ni**a up owning my masters," raps the G.O.O.D. Music signee. "Swear it's labels that's up Bs that owe me Ms / To them, that shit is like Gs."
Last month, Kanye West announced that he was giving back the 50 percent share he owns of G.O.O.D. Music artists' masters. Following the announcement, a grateful Sean told Ye, "Thank you!!! This would help so much."
Produced entirely by Hit-Boy and mastered by Guru, Burden of Proof is due Oct. 16 featuring collaborations with Rick Ross, Freddie Gibbs, Queen Najia, Dom Kennedy, Conway the Machine, and Westside Gunn.
"If you understand the meaning [Burden of Proof], it's one trying to prove their assertion; and that's what I'm doing with this album," said Benny. "This is the validation of what I have been saying all this time about Griselda, BSF, Benny the Butcher, coming to fruition. The Burden of Proof always lies with me."
"When you don't have a silver spoon you gotta eat wit your hands" – @BigSean spazzed on Benny the butcher single dropping tn and I made this beat in 2011 for watch the throne #Timeless pic.twitter.com/miMb820kQr

— Hit-Boy (@Hit_Boy) October 8, 2020