Big Boss Vette Drops Debut EP RESILIENCE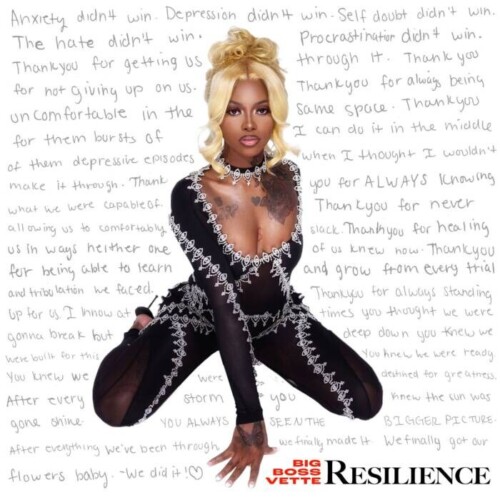 Rapidly-rising St. Louis rapper and singer Big Boss Vette shares her anxiously awaited debut EP, RESILIENCE via Beatstaz/Amigo Records/Republic Records. 
In celebration of the project's arrival, she uncovered a personal short film that digs deeper into Big Boss Vette's story of RESILIENCE. It opens with a powerful line from the hit-maker as she states, "the good shit yall see came from a million failures." Then it proceeds to chronicle her success from the very start up until now. It's a transparent and inspiring story of how self belief will unlock the doors to achieving your dreams. 
With no shortage of quotable wordplay or massive melodies, RESILIENCE boasts seven brand new songs. The stand out track "Get It" is a multigenerational anthem fit for any backyard bbq. While other songs including the punchy "Another One" and club-ready banger "Lick The Cat" double-down on Big Boss Vette's strong aptitude for creating memorable hooks. Check out the full tracklisting below.
The new EP comes on the heels of her incendiary "Ion Need." In addition to looks from Uproxx, LA WEEKLY, Rap-Up, and more, Billboard asserted that she is a, "…hard-hitting rapper [donning] a charming-yet-deceiving smile on her face." She recently delivered a standout performance at the official 2023 BET Awards pre-show in Los Angeles. Her presence could be felt throughout the day as she also stunned on the red carpet. BET also recently named her the July "Amplified Artist."
Big Boss Vette has maintained her momentum with one anthem after another, including "No Fakin," "Outside," "Snatched," and her breakout "Pretty Girls Walk." Beyond generating hundreds of millions of streams and igniting festival stages, including her upcoming performances at Rolling Loud Miami and Lollapalooza, she has delivered a series of high-profile collaborations. She teamed up with Omah Lay for "I Can't Stop" from the Spider-Man: Across The Spider-Verse (Deluxe Edition) Soundtrack. Plus, she appeared on iCandy's "Keep Dat ***** (Pt 2)" [feat. GloRilla, Kali, & Big Boss Vette] and linked up with Spiffy The Goat for the Remix of "Throw It." Not to mention, she has earned widespread acclaim and soundtracked viral social media clips by the likes of Reba McEntire, Madonna, Kate Beckinsale, Jennifer Lopez, Paris Hilton, Nicole Scherzinger, and many more.
Now, she shows her Resilience.
© 2023, Seth "Digital Crates" Barmash. All rights reserved.