Big Sean Releases Nipsey Hussle Collaboration 'Deep Reverence'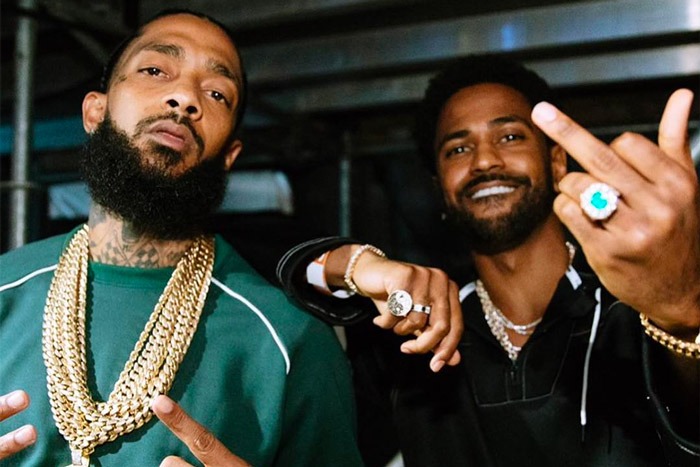 The Marathon continues.
After announcing a release date for his album Detroit 2, Big Sean debuts his Nipsey Hussle collaboration "Deep Reverence." Produced by Hit-Boy and G-RY, the long-awaited track—which was previewed back in March—finds Sean Don sharing his testimony, while Neighborhood Nip drops some knowledge for the streets.
"F**k rap, I'm a street legend / Block love me with a deep reverence / I was birthed in a C-section / Hella cops and police presence / We got opps so we keep weapons," raps the Crenshaw legend. "Y'all still learnin' street lessons / From the mastermind, first you master grind / Then your team catch it / This time is for the money, I don't need credit / And I'm the don 'cause the streets said it."
Sean addresses his rumored beef with Kendrick Lamar following their "Control" collaboration: "After what happened to Nipsey, I reached out to Kendrick / It wasn't even no real issues there to begin with / Lack of communication and wrong information from people / Fueled by the ego is like mixing flames with diesel."
He even reveals that he thought about taking his own life. "In high school I learned chemistry, biology / But not how to cope with anxiety / Or how I could feel like I'm by myself on an island / With depression on all sides of me / With a Glock 17 right on the side of me / Look, I ain't think I had the thought of suicide in me / Until life showed me all these different sides of me."
Sean closes out the track with a dedication to Nipsey: "If it ain't Nipsey blue, it's Detroit blue / This that Detroit 2 / I'm bringin' it back to the hood like D-Boys do, gone."
RIP NIP!!! I can't think of a better time to drop this one! Love! #Detroit2 next week! Letssss goooooooooo! 🚀

— Sean Don (@BigSean) August 25, 2020
Following Nipsey's death in March 2019, Sean reflected on Nipsey's legacy and their decade-long friendship. "You'll live forever Nipsey Hussle the Great, your impact was too powerful and you were a master at your craft," he said. "Everyone was so excited about what you accomplished, what you were doing for the community, your constant growth and what we were going to see next out of you!"
Detroit 2, Sean's fifth studio album, arrives Sept. 4 and was executive produced by Hit-Boy and Kanye West.
"I watched bro @bigsean lock in for hours til every bar hit how he wanted it to," Hit-Boy tweeted. "His vision was clear from the jump this is some of his most elevated work on every level. Proud is an understatement!!"
View this post on Instagram

This one hits way too hard. Over what? We lost a king, father, role model, leader, great mind, son, teacher, husband, entrepreneur, poet OVER WHAT? Something that could have been avoided?! You'll live forever Nipsey Hussle the Great, your impact was too powerful and you were a master at your craft. everyone was so excited about what you accomplished, what you were doing for the community, your constant growth and what we were going to see next out of you! My prayers go out to Lauren London, your kids, family and friends. It's been an honor knowing you for the last decade bro! The Marathon continues, Rest in Paradise Legend 💔