BRADY WATT LINKS UP WITH CONWAY THE MACHINE AND TALIB KWELI FOR NEW "WITHOUT YOU" SINGLE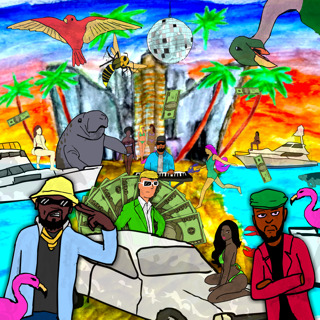 For the past few years, Brady Watt has been releasing music and content that continuously highlights his virtuosic gifts, musicianship, and diversity. The ease with which Brady can deftly pivot from producing Jack Harlow's hit-single, "Same Guy," featuring Maroon 5's Adam Levine (which was further punctuated when both artists performed the song on Saturday Night Live), to cutting-edge boom bap, "Narcissist," featuring Westside Gunn and DJ Premier, to "Nobody Home," which featured the rhythm sections of Rage Against The Machine and Metallica, and two trend-setting and legendary musical icons in Brad Wilk & Robert Trujillo, and most recently his work, "Endless," (which he co-produced with DJ Premier) with fledgling breakout star BLP Kosher; all display Brady's innate ability to create music that not only uplifts the artists he collaborates with, but also blurs genres—while managing to comfortably stand out in them.
Similarly, Brady's groundbreaking "Bass & Bars" series, continues to attract icons (some of his latest guests include Styles P, Havoc, Erick Sermon, Freeway & DMC), and after an impromptu "Sunday Service" performance with Marc Rebillet went viral and generated so much positive adulation, Brady Watt, DJ Premier, and Marc Rebillet headlined a sold-out show in Central Park together last summer.
After finishing up the first leg as the opener for blues and guitar legend Gary Clark, JR's tour, Brady Watt is back with a new self-produced single, "Without You," which features Conway The Machine & Talib Kweli.  "Without You" is now available at all DSP's.
"Without You" is also a sort of full circle moment for Brady, as he has been a member of Kweli's band dating back to his teenage years (and as such has performed with him on late-night TV performances) and after working with Benny The Butcher on Bass and Bars, and Westside Gunn ("Narcissist" single), he completes the Griselda circle by tapping one of his favorite emcees in Conway The Machine.
"The hook for "Without You" relates to the concept that all the success in the world isn't worth it if you don't have your people with you; and if you finally get it, and are alone, it's really all just wasted effort" Brady Watt muses.  "I had the hook and track really rockin, then enlisted my friends and colleagues Conway The Machine (of Griselda, one of my favorite rappers alive) and the legend Talib Kweli. I've actually been in Kweli's band since I was a kid, he's like an older brother, so to get him on the track is a very big deal. I'm a huge Hip-Hop fan for life and I feel my strength in this game is making SONGS that really last in collaboration with some of the best rappers ever."
Brady Watt's new single, "Without You," featuring Conway The Machine & Talib Kweli is now available at all DSP's.
[embedded content]
© 2023, Seth "Digital Crates" Barmash. All rights reserved.