Cardi B Explains Why She Took Offset Back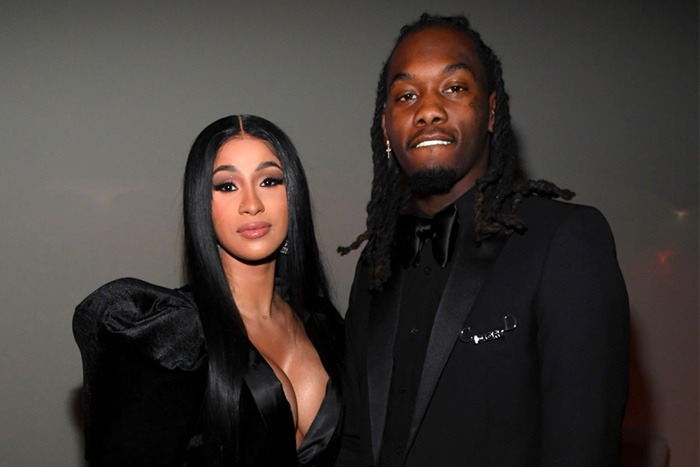 Cardi B and Offset are back on.
Just a month after she filed for divorce from her estranged husband, the couple reunited during Cardi's 28th birthday in Las Vegas over the weekend. The two were seen partying together and showing plenty of PDA, fueling speculation that they're back together. While it's unclear if Cardi plans to call off the divorce, she opened up about her decision to let Kulture's father back into her life.
"I just be starting to miss [him]… It's hard not to talk to your best friend. And it's really hard to have no dick," Cardi told fans during an Instagram livestream on Tuesday.
She also shot down a suggestion that she's bipolar. "I know I'm not bipolar 'cause I took a test."
Offset surprised his wife for her birthday with a Rolls-Royce Cullinan, Birkin bag, and even a billboard, which seemed to go over well. "I do like material things," admitted Cardi. "What do you want me to do, the ni**a gave me a Rolls-Royce and I snub him? And I really wanted some dick for my birthday."
Cardi explained that she and Offset go through ups and downs, just like other young couples. "We're some really typical two young motherfu**ers, got married early, that's what we are," she said. "We're not no different than y'all fu**in' dysfunctional ass relationships. We're the same way. We're just more public. And I'm more retarded."
On Tuesday, the "WAP" rapper accidentally posted a topless photo of herself on Instagram Stories. She later revealed that she was in bed with Offset when she shared the nude pic with her millions of followers.
"I'm leaning in the fu**ing bed, right? And I'm telling Offset, 'Yo I feel like…," she said, according to Page Six. "I'm taking the fu**ing picture and then I fu**ing press and I see that it's loading and I'm like 'Oh my God! Oh my God, Offset! Oh my God, the picture's loading,' and he was like, 'Whoa whoa whoa whoa whoa.'"
She told Offset to check her Instagram Story from her phone to see if she uploaded the photo, but it was too late. "By the time I turned my phone on and deleted that shit, everybody and their mom saw. They were all over the internet."
Cardi filed for divorce from Offset after three years of marriage, but all signs point to a reconciliation. Offset even celebrated their reunion in an Instagram post, writing, "I won."
"They aren't back together but [it's] just a matter of time," a source told E! Online. "She loves the attention from him and he's trying really hard to win her back."