Cardi B Gives Offset $2 Million for His Birthday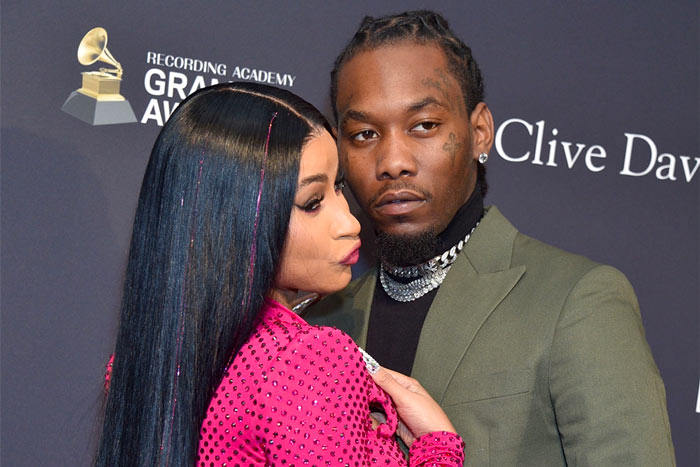 Cardi B is showing her love for Offset in millions of ways.
The Migos rapper celebrated his 30th birthday with a blowout bash in Los Angeles on Tuesday night (Dec. 21) where his wife surprised him with another lavish gift in the form of $2 million.
"That's $2 million," said Cardi while handing her husband a giant check. "I love you."
The couple has been known to exchange extravagant birthday presents throughout the years. For her 29th birthday in October, Offset surprised his wife with a $1.5 million vacation house in the Dominican Republic.
Back in 2019, the "Up" rapper handed her man $500,000 in cash on his birthday. A year later, Offset gave the mother of his two kids a Rolls-Royce Cullinan at her birthday party in Las Vegas.
View this post on Instagram
Earlier in the day, Cardi came to the defense of Lil' Kim after she was mocked and criticized online.
"Watching @LilKim get bullied, mocked, and disrespected by thousands of people online is really upsetting," tweeted singer Edidion. "The other day it was because of her halftime performance and now it's because of a role she played in a movie. At what point will this weird hate bandwagon for Lil' Kim end?"
Cardi saw the tweet and responded by showing love to the Queen Bee. "I'm tired of it and it's heartbreaking…She's is so sweet ,supportive and a REAL FU**IN LEGEND," she wrote. "I remember when I used to beef wit bitches and I used to put on my MySpace her song FUCK YOU! I think it gotta be these 2000's born kids on this app that don't know about shit!"
BEEN SAYING THIS .THANK YOU.I don't rush things and I say this in all my interviews.Until I don't have the right song for a artist I'm not going to rush it cause if the song don't make sense and it don't do good then I will feel terrible..It don't take away from her greatest https://t.co/gFW743fkFd

— Cardi B (@iamcardib) December 22, 2021