Chicago's own Calboy returns to the scene independent and Unchained with the release of new single "On My Own"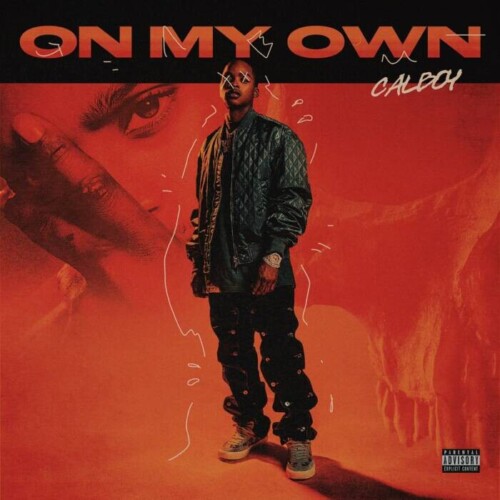 Hailing from Chicago's historically troubled Southside, rapper-singer-songwriter Calvin "Calboy" Woods used to keep a million things locked in his head & in his heart. The remarkable and unparalleled young talent grew up in an impoverished neighborhood that was often referred to as a war-zone, a landscape of gangs, crime and violence, where anything could happen at any time. Daily threats or elements of danger were a way of life. Music became Calboy's outlet; his therapy. For over a decade, the 24 year-old modern rap celebrity has been digging deep into his soul taking listeners on a sonic ride and re-defining the soundtrack of the streets in the process.
With over 2 billion global streams the Chicago MC has multiple accomplishments under his belt like the coveted XXL Freshman Class Cover of 2020, landing on Billboard's Hot 100 chart, reaching triple platinum, touring with Kodak Black and collaborating with Lil Wayne on "Miseducation" a track paying homage to Lauryn Hill. Now Calboy is ready for a new independent musical era with Unchained, his first album project under his own label, Loyalty N Company, representing his independence and emancipation from the shackles of RCA Records. The 12-song collection chronicles the soldier's life following his public and private battles, be it for artistic freedom, lingering grief or industry feuds. On his resurgence track "On My Own," the multi-gifted artist raps about balancing his demons and divinity in a rapid-fire flow over booming 808s. The cinematic visuals for the single brazenly reaffirm Calboy's allegiance to his crew as well as emphasize his visionary and revolutionary spirit outside the major label machine. 
Calboy says, "On My Own' is more than just a single to me; it's a testament to resilience and growth. This song reflects my journey, reminding me of the struggles I've faced and the obstacles I've overcome on my path to success. It's a reflection of the hustle, dedication, and determination that brought me to where I am today. 'On My Own' represents the strength of believing in oneself and never giving up, no matter the challenges that come my way."
Calboy's million + followers have come to love and respect his extraordinary strength as well as the lyrical heat and heart he rhymes with harmonious vigor. He's endured the pain of several lifetimes yet he knows his impact is amplified as a result of it; his innermost thoughts connecting cross-cultural communities spanning the globe. Rising above the drama with a refined game plan, Calboy is focused on two things: feeding the streets and building an empire. "Since I was a kid, I told my family I was the golden one. I recognized my gift early and I figured out the rest despite my circumstances. I'm truly chosen for this. I'm a warrior."
Instagram
[embedded content]
© 2023, Seth "Digital Crates" Barmash. All rights reserved.