Chris Brown Calls Out Quavo After Winning Crew League Championship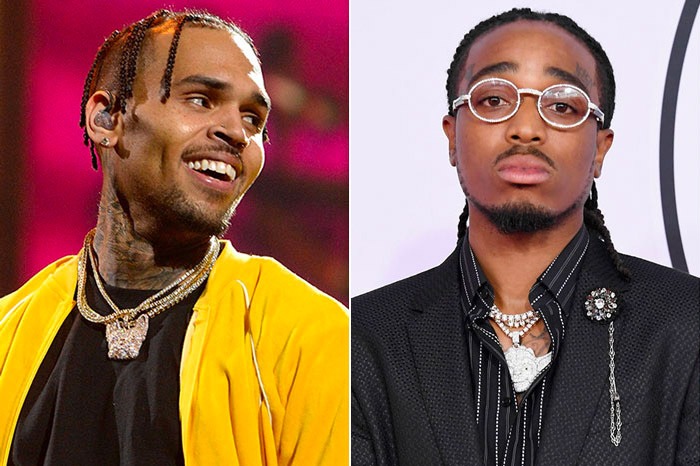 Chris Brown still wants smoke with Quavo.
On Friday (July 16), Breezy's team played in Season 2 of The Crew League's celebrity basketball tournament alongside G-Eazy, Tyga, Rowdy Rebel, Jason Derulo, and more. In the finals, Chris' OHB crew faced off against Pardison Fontaine's Section 8 team and won the championship by two points.
During a post-game press conference, Breezy decided to reignite his beef with Quavo by taunting him. "Aye Quavo, get your bitch ass out here," he said.
View this post on Instagram
Back in March, Chris called out the Migos rapper after he and Jack Harlow defeated Lil Baby and 2 Chainz in Bleacher Report's Open Run during NBA All-Star Weekend in Atlanta.
"They knew who not to ask for on that 2 on 2 basketball," declared Breezy. "I would've cooked Quavo and Jack! On my soul! Guess they wanted a smoke free zone."
Quavo, who was named MVP of the 2018 NBA All-Star Celebrity Game, clapped back. After hearing Chris say he would "smoke" him, Huncho dismissed the threat. "Chris Brown AINT Cookin NAN," he wrote on his IG Stories. "Call next Ni**a!!!"
The "Go Crazy" singer shot back at Huncho. "It ain't no next. I'm on now. Set it up lil ni**a," he said. "U know dis work different. Me and @AustinMcBroom vs the Lil Boys."
It remains to be seen if Quavo will accept the challenge. He has yet to respond to Chris' latest comments.