Doja Cat and Nicki Minaj Drop Original 'Say So' Remix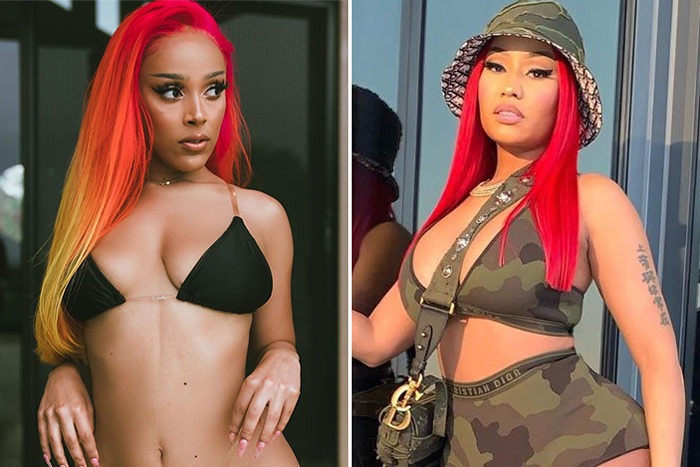 A week after dropping their remix to "Say So," Doja Cat and Nicki Minaj have released the original version of their collaboration.
The song was previously released to international streaming services before being replaced with the current remix that is on Spotify, Apple Music, and other platforms. But now both versions are available to stream worldwide.
The original features a different verse from the rap queen minus the outro. "Slide on a ni**a, I'ma need my skates / Social distance, I'ma need my space," Mrs. Petty raps on the disco-infused bop.
During a Twitter Q&A with fans, Nicki said she always knew she would end up on the remix. "Idk but I had a funny feeling I'd end up on that remix. The weirdest thing. Can't explain it," she tweeted.
She also revealed that she asked the producers to switch up the beat on the outro so she could lay down her verse. "I couldn't rlly catch a vibe until I asked them at the last minute to switch up the beat," she said. "Once I got the new beat, I wrote it in an hour. It's so funny how fun 'work' becomes once you're inspired."
"Say So" is battling it out for No. 1 on next week's charts with Megan Thee Stallion's "Savage," which spawned its own remix with Beyoncé. But despite who comes out on top, Nicki is just happy to see history being made.
"Man, I can't believe I'm lucky enough to be a part of this kind of history. I love all the girls involved," she said. "It just feels like an epic moment to witness & be a part of @ the same damn time."
Idk but I had a funny feeling I'd end up on that remix. The weirdest thing. Can't explain it. https://t.co/tkgawBWf5e

— Mrs. Petty (@NICKIMINAJ) May 7, 2020
Man, I can't believe I'm lucky enough to be a part of this kind of history. I love all the girls involved. It just feels like an epic moment to witness & be a part of @ the same damn time. ♥️ https://t.co/RSH9GIvMnn

— Mrs. Petty (@NICKIMINAJ) May 7, 2020