Drake Joins Drakeo the Ruler on 'Talk to Me'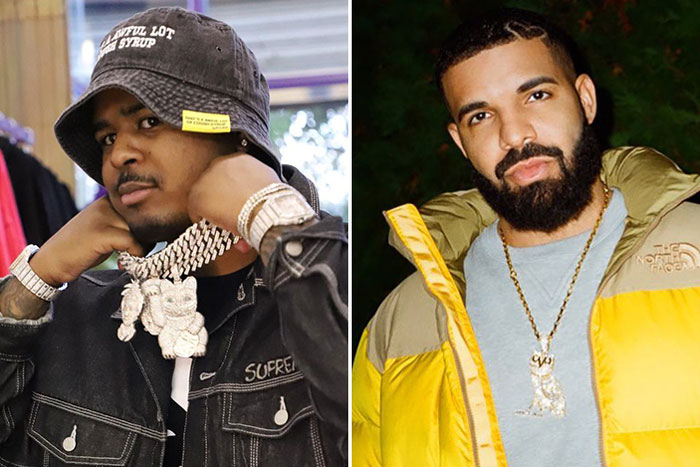 Just months after being released from prison, Drakeo the Ruler links up with Drake on a new collaboration.
The Toronto rapper and L.A. spitter team up on "Talk to Me" off the latter's forthcoming project Truth Hurts. On the laidback jam, the Certified Lover Boy brings Drakeo into his melodic world as he caters to the ladies. "'Cause I know you want me, girl," sings Drizzy.
Speaking with Apple Music's Zane Lowe, The Ruler explained how the collaboration came together after he connected with Drake on social media. "I got out of jail and my engineer was like, 'Why you don't follow Drake?' I'm like, 'He don't follow me, bro.' Then I looked, and I'm like, 'Oh yeah.' So I hit him up, I'm like, 'Let's do something.' And then he's like, 'What's your number? I got this song I did for you.' And then it kind of clicked in my head what they was talking about before."
Drakeo admits that he was not sure about the record at first. "At first, I was like, 'That's kind of different, but I'm like, nah. This Drake. I'm finna do whatever.' But at first, I'm like I don't usually really do something like that. But then when I got on it, I'm like, 'Oh yeah, this hard.' I'm just like "Drake bro!' Like all right."
In November, the Los Angeles rapper was released from jail after striking a plea deal. The 26-year-old was found not guilty of murder and attempted murder in July 2019, but remained in jail on charges of criminal gang conspiracy and shooting from a motor vehicle.
"Three years being in jail, fighting the death penalty. It's a lot of people that was just like didn't want this to happen," he said. "And it hurts. I mean, I got Drake on there, Don Toliver….People never thought. They thought I was going to be doing the same thing and just not progressing with my music, all type of stuff. So this is really going to hurt them. For people that don't necessarily share the same interests as me."
Truth Hurts arrives Wednesday featuring additional appearances from Don Toliver, Ketchy the Great, and Icewear Vezzo.