Drake Says He Wouldn't Be Here Without Bow Wow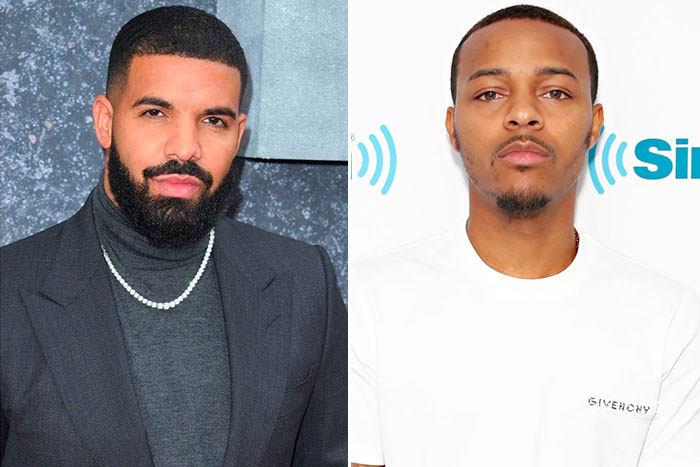 Drake celebrated his historic chart achievement with Bow Wow.
After debuting three songs atop the Billboard Hot 100, Drizzy marked the occasion by partying with friends including Bow Wow at a private dinner in his honor at Mastro's in Houston on Monday (March 15). Taking to Instagram, Champagne Papi shared video of him and Shad Moss toasting to his chart feat.
"I didn't know how else to bring in 1, 2, 3. I had to link with Wizzle," he said. "Everybody wants to have drinks and everybody wants to celebrate and turn up, I just had to see Wizzle. I had to see Wizzle in person."
Drake went on to credit Bow Wow for opening doors, while quoting lyrics from his 2001 hit "Thank You." "If it wasn't for you, there wouldn't be no me," said Drake, "and that's why I'ma rock with y'all forever more. I appreciate y'all."
Bow Wow reflected on the epic evening. "What a night Houston. So legendary ain't no footage no pics," he wrote on IG Stories, while calling Drake "my fu**ing dawg!"
This is not the first time Drake has shown love to Bow Wow. He previously paid homage to the former teen heartthrob. "When you were younger, you wanted to be as big as Bow Wow was. All the girls wanted Bow Wow," he told Nardwuar in 2016.
This week, Drake became the first artist to enter the Hot 100 at Nos. 1, 2, and 3 simultaneously with his trio of Scary Hours 2 tracks. "What's Next" debuted at No. 1, followed by "Wants and Needs" featuring Lil Baby at No. 2, and "Lemon Pepper Freestyle" featuring Rick Ross at No. 3.
Drake's celebratory dinner included a cake with the Billboard Hot 100 printed on it, while he received congratulatory messages from his celebrity friends including LeBron James. "That's why he's the boy!!" said the NBA star.