Drake Toasts Lil Wayne at Birthday Dinner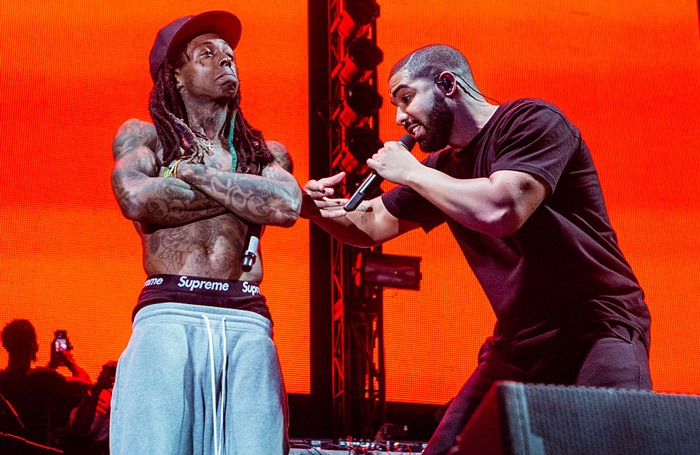 Drake is giving Lil Wayne his flowers.
In honor of his birthday, the 6 God celebrated his mentor at a private dinner with close friends in Miami. At one point, Drake got out of his seat and raised a toast to Tunechi, who turned 39 on Monday. During his heartfelt speech, he praised the man who changed his life when he signed him to Young Money over 12 years ago.
Despite over a decade of friendship, Drake admitted that Wayne still makes him nervous.
"I still to this day get nervous speaking about this man because at the end of the day, as much of a brother and a mentor as he is to me, he's still like my idol and still somebody who puts me in a place where when I start thinking about him, I start thinking about my family and all the things that could've went a different way," he said as Wayne looked on.
View this post on Instagram
Drake continued to bestow praise upon Wayne. "Aside from the fact that you're definitely the braziest ni**a I know, off top—the braziest out of anybody—but with that comes the most advanced musical ear that I've ever encountered. The most poised, the most wisdom."
"They'll never be anybody who walks this earth that's like you," he added. "We literally have no existence if it's not for you… None of us without you. I just want you to take that in. All these human beings out here, we have nothing without you. And we love you so much. I'll do anything for you."
In honor of the birthday boy, Drake also customized bandanas with phrases like "Best Rapper Alive," "Weezy," and "Mr. President." "@champagnepapi really went all out!!" said Wayne's manager, Cortez Bryant.
Drake celebrating Wayne's birthday
pic.twitter.com/ekCuaTWk6x

— Drake Direct (@DrakeDirect_) September 29, 2021
Nicki Minaj also honored "the man who changed my life" with a tribute post on his birthday. "Happy Birthday to my everything @liltunechi," she wrote.