Eminem Addresses Snoop Dogg's 'Disrespectful' Comments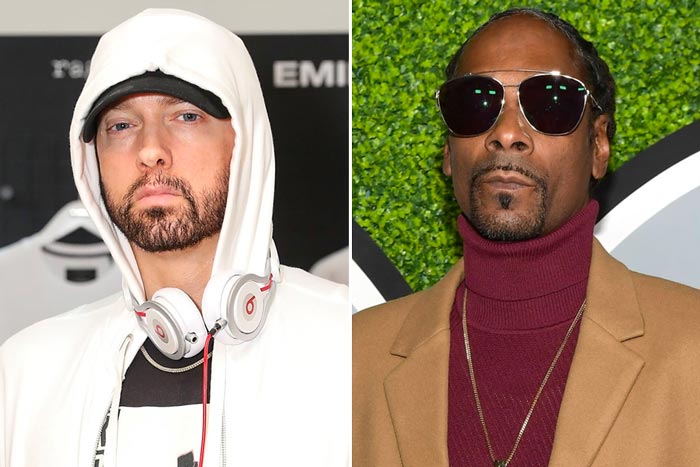 Eminem admits he was caught off-guard by Snoop Dogg's "disrespectful" comments.
Speaking with "The Breakfast Club" in July, Snoop revealed his top 10 favorite rappers, which did not include the "Rap God." When asked why, Snoop said, "'Cause there's some ni**as in the '80s that he can't f**k with."
During the interview, Snoop also credited Dr. Dre for Eminem's success. "White rappers had zero respect in rap," he said. "[Dre] has probably put Eminem in the position where he could be labeled as one of the top 10 rappers ever. I don't think so, but the game feels like he's top 10 lyricists and all that that comes with it. But that's just because he comes with Dr. Dre and Dr. Dre helped him find the best Eminem that he could find."
While discussing Side B to his album Music to Be Murdered By on SiriusXM's Shade 45 on Thursday (Dec. 31), Em said he agreed with most of Snoop's comments. "Everything he said, by the way, was fine, up to a point," he said, according to Complex. "Him saying Dre made the best version of me, absolutely, why would I have a problem with that? Would I be here without Dre? F**k no, I wouldn't. The rappers he mentioned from the '90s–KRS One, Big Daddy Kane, [Kool] G Rap–I've never said I could f**k with them."
But Em did take offense when Snoop said he could "live without" his music, especially since the two have been longtime friends.
"I think it was more about the tone he was using that caught me off-guard 'cause I'm like, where is this coming from? I just saw you, what the f**k? It threw me for a loop," he explained. "I probably could've gotten past the whole tone and everything, but it was the last statement where he said, 'Far as music I can live without, I can live without that shit.' Now you're being disrespectful. It just caught me off-guard."
Em was unsure how to respond at first. "I didn't know what to do about it because it confused me 'cause I'm like, bro, same team. We're on the same team. And I have never in my career, my entire career, said a disrespectful word about Snoop."
He clapped back at Snoop on his new project Side B. "And as far as squashin' beef / I'm used to people knockin' me / But just not in my camp / And diplomatic, 'cause I'm tryna be," Em raps on "Zeus." "Last thing I need is Snoop doggin' me / Man, dog, you was like a damn God to me / Man, not really / I had dog backwards."
Elsewhere on Shade 45, the Detroit MC addressed his offensive lyric about Rihanna ("Of course I side with Chris Brown, I'd beat a bitch down too") on an unreleased verse from 2009, saying he was surprised when it leaked.
"Honest to God, I told Paul [Rosenberg] this when it first happened. First, I don't know how somebody got it. Second of all, I have zero recollection of even remembering doing that verse," he said. "Like, the rhyme schemes didn't even sound familiar to me, so I was caught off-guard."
The track was recorded during the "early stages" of his 2009 album Relapse. "I'm not making excuses for it. I said it, and I was wrong for saying it. It was fu**ing stupid," he admitted.
On "Zeus," Em apologized to Rihanna for any disrespect. "But, me, long as I re-promise to be honest / And wholeheartedly, apologies, Rihanna," he raps. "For that song that leaked / I'm sorry, Rih / It wasn't meant to cause you grief / Regardless, it was wrong of me."