Eminem Appears in 'SNL' Christmas 'Stan' Parody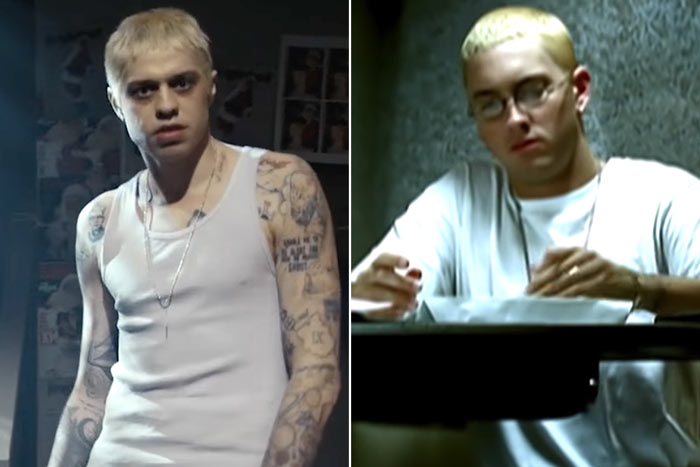 Eminem's Marshall Mathers LP classic "Stan" turned 20 this year.
Two decades later, "Saturday Night Live" parodied the track's iconic music video as part of a Christmas-themed skit called "Stu" starring Pete Davidson and featuring a cameo from Slim Shady himself.
Instead of writing a letter to Eminem, Davidson's character—with bleached blonde hair and a white tank top—penned a letter to Santa Claus from his basement. Surrounded by photos and magazine covers of Jolly Old St. Nick, Santa's biggest fan recited his Christmas list, which included a coveted PS5.
"Don't forget, bring my gift / Truly yours, I believe in you / This is Stu," he rapped before sealing his letter to the North Pole.
But things quickly took a turn as an obsessed Stu grew angry at Santa for not responding. "Next time you slide down my chimney, I'll set your ass on fire," said Stu, who even got a tattoo with Santa's name across his chest. "P.S. We should live together too."
Kate McKinnon played Dido, singing about "scary guy" Stu, while Bowen Yang took on the role of Elton John. After all his letters, Santa—portrayed by host Jason Bateman—decided to respond to Stu with a simple note: "Dear Stu, I think you got the wrong address, bro. I'm not Santa Claus, bye bye."
At the end, Marshall Mathers himself made a surprise cameo on the TV screen in Davidson's basement. Sitting in front of a Christmas tree and wearing a Run-DMC holiday sweatshirt, Em opened his gift, which happened to be a PS5, even though he "didn't even ask for this."
"I guess Shady must have been a good boy this year," he said. "Sorry Stu, you fu**ed up."
Watch the hilarious parody below.