Eminem Says Kendrick Lamar Is a 'Top Tier' Lyricist of All Time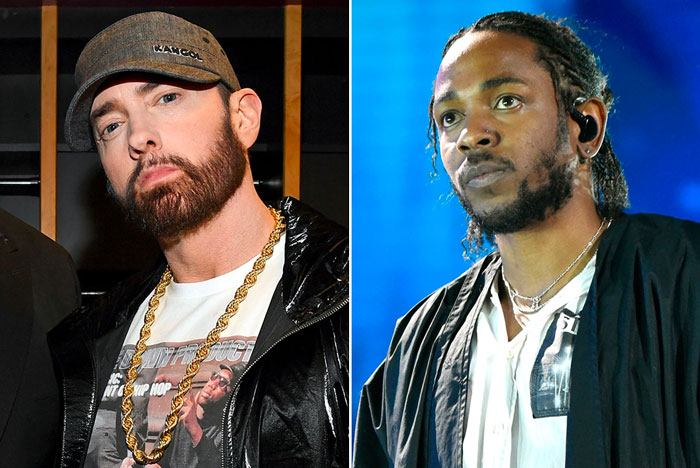 Eminem is giving Kendrick Lamar his flowers.
In anticipation of Sunday's Super Bowl Halftime Show, Slim Shady checked in with SiriusXM's Sway Calloway where he gave props to his fellow halftime performer.
Sway praised the Pulitzer Prize-winning MC as the "most electrifying vocalist of this generation" before asking Em if he agreed.
"I absolutely would agree," he said. "Kendrick is at the very top top tier of lyricists. Not just of this generation, but of all time."
Over 100 million people will be watching as Eminem, Dr. Dre, Kendrick, Snoop Dogg, and Mary J. Blige take the field at SoFi Stadium in Inglewood for the Pepsi Super Bowl LVI Halftime Show. He admits the enormity of the event isn't lost on him.
"I'ma tell you, it's fu**ing nerve-wracking," said Em. "To me, there's nothing more final than live TV, so if you f**k up, your f**k up is there forever."
Em also reflected on getting "The Call" from Dre, who blew him away with his vision for the halftime show.
"When the whole thing started going down, like this might actually be serious, I was trying to envision what Dre might do," he said. "I didn't expect the production to be like this."
In honor of the Super Bowl, Marshall Mathers has brought his Mom's Spaghetti restaurant concept to the West Coast. The pasta pop-up will serve up a "taste of 8 Mile" when it takes over Uncle Paulie's Deli in downtown L.A. this weekend.
View this post on Instagram