Eminem's Adopted Child Comes Out as Non-Binary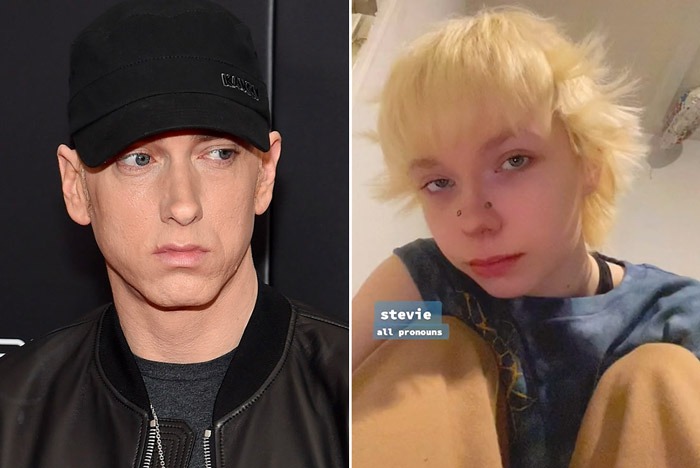 Eminem's adopted child, Stevie Laine, has come out as non-binary.
The 19-year-old made the announcement in a TikTok video, while sharing their journey to "become more comfortable with myself." Formerly known as Whitney (she/her), Stevie said they will use "all pronouns" going forward.
"forever growing and changing #greenscreen #genderfluid #bi #life," Stevie captioned the montage video, which documents their transformation throughout the years.
@st0nedc0w

forever growing and changing <3 ##greenscreen ##genderfluid ##bi ##life

♬ original sound – THXOC
Stevie received support from their 17,000 TikTok followers including half-sister Hailie Mathers, who liked the video.
Stevie also revealed how they came up with their new name, writing, "I spent a long time trying to pick a name I felt uncomfortable with and the first name I felt comfortable with is Stevie!"
According to Page Six, Stevie came out as bisexual in 2017 and requested at the time to go by the pronouns she/they.
In 2005, Eminem legally adopted Stevie, who is his ex-wife Kim Scott's biological daughter with Eric Hartter. Scott gave birth to Stevie six months after divorcing Eminem in 2001. They remarried in January 2006, but divorced later that year.
Earlier this week, it was reported that Stevie's mother was hospitalized after a suicide attempt.