F-SIXTEEN, The Definition of a "Political Gangster"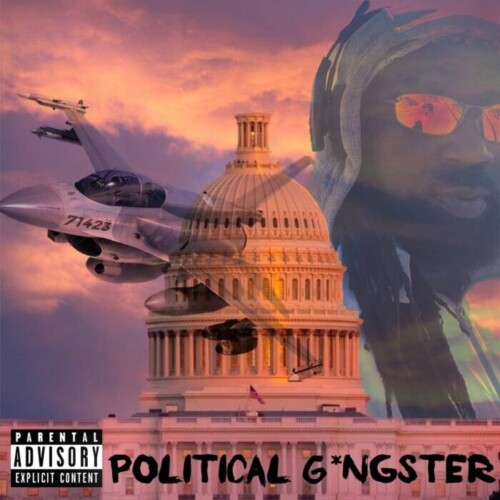 A Song, Decades in The Making
On Friday July 21st, a new song went live on the streaming platforms. This song will very likely polarize a majority of its listeners. Some will find it extremely entertaining and will likely have it on repeat. These same people will undoubtably share the song with friends & colleagues and together they'll dissect the lyrics, discuss the subject and find unbridled entertainment in the message being delivered. Others will likely stare at their phone, and ask how the h*ll the song showed up in their playlist!
No matter what side of the spectrum individuals end up, what is unquestionable is the fact that "Political Gangster", by F-SIXTEEN, is a bold and audacious shot at addressing a topic that hasn't been prevalent in hip-hop in the last several decades. In fact, it hasn't been since Public Enemy's "It Takes a Nation of Millions to Hold Us Back", that a hip-hop record has tackled the political landscape with this much bravado and unlimited "IDGAF energy"!
Thankfully the opportunity to discuss this record with the creator presented itself, and was jumped on wholeheartedly. And so, without much further ado, let's check in with the brain behind this super-hype record, and learn a little about the man behind the lyrics!
Toe to Toe with an F-SIXTEEN
F-SIXTEEN, first we want to thank you for taking time out to speak about yourself and this record, let's start by having you tell our audience a little bit about yourself and what makes you "tick"?
Sure! My humble beginnings started in Georgetown Guyana, where I was born. Then in my teenage years I migrated to the United States, and lived in Harlem, New York city. I believe there's a God that created us all. I'm not perfect, I'm a work in progress. If I had one wish, I would wish that hate be no more in this world, and only love remains in the hearts of all humanity.
How did you come up with the name F-SIXTEEN?
Well, many people are currently using the name Benjamin which I loved, so I decided to come up with a name that's a bit unique in the music industry, and so F-SIXTEEN was my pick, mainly because I drop lyrical bombs!
How long have you been making music and who are your musical inspirations?
I've been writing songs since I was a teenager. I write Reggae, R&B, Hip-hop, Dancehall and Soca. My inspection comes from God Almighty. My favorite artists are KRS-1, Bob Marley, Dennis Brown, Nas, Biggie Smallz and Jay Z.
What was your motivation for writing and releasing "Political Gangster"?
I'm just fascinated with the events that are taking place with the ex-president, DJT. I admire his boldness in the face of adversity, and you can bet your last dime that when he speaks, he's going to say something out of the norm that will make folks get a good laugh. This is American History in the making, we are about to see if there's really law and order, or if that just applies to a certain set of people.
What message do you want listeners to take away from "Political Gangster"?
I would like the listeners to capture the message I'm sending, and that message is, "DJT could not have done what he's accused of doing, if there was no one else doing it too. What DJT did was expose the hypocrisy and corruption that's imbedded in politics, which should really be called "politicks". Some folks are mad, because now, what was previously in the dark, has finally come to light, so they've came for him.
Final Thoughts
Ok, thanks F-SIXTEEN! Much appreciation for you taking some time to share some of your thoughts and background. Much success with your new record, and there's no doubt that this definitely is not the last discussion that will be had about it and you!
Watch the music video at:
[embedded content]
Visit the website:
https://www.readynowent.com
Article by ADAM 4 Artists
© 2023, ADAM 4 Artists. All rights reserved.