First Look: 'The Fresh Prince of Bel-Air' Gets Dramatic Reboot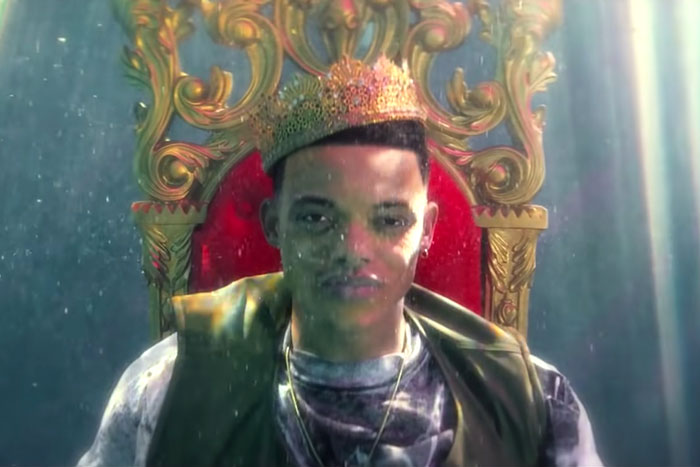 The first teaser for "The Fresh Prince of Bel-Air" reboot is here.
Inspired by the '90s sitcom, Peacock's reimagined drama "Bel-Air" is based on Morgan Cooper's viral fan film Bel-Air, which dropped in 2019. Newcomer Jabari Banks takes on the role of Will Smith's character from the original series, which went off the air in 1996.
Smith, who serves as executive producer, provides a dramatic reading of the show's theme song in the underwater clip. Banks wears Jordans as an homage to the sneakers worn by Smith's character. There are also basketballs, trophies, and pairs of dice, a reference to the song's lyrics, "The license plate said 'Fresh' and it had dice in the mirror." At the end, a crown is placed on Banks' head as he takes his throne as the prince of Bel-Air.
The hour-long reboot takes place in modern times and follows Smith's journey from the streets of West Philadelphia to the gated mansions of Bel-Air.
"At its heart, Bel-Air is a coming-of-age story that celebrates the strength and love of the Black family," said T.J. Brady and Rasheed Newson, Executive Producers and Co-Showrunners. "We have stayed true to the original premise of the legacy series—Will's life is turned upside down after he is forced to leave West Philly and lands in Bel-Air with its gated mansions and wealth, however, our new series brings Will and the Banks family into the world as we know it now."
The series also stars Adrian Holmes as Phillip Banks, Cassandra Freeman as Vivian Banks, Olly Sholotan as Carlton Banks, Coco Jones as Hilary Banks, Akira Akbar as Ashley Banks, and Jimmy Akingbola as Geoffrey.
"Bel-Air" will premiere next year and has already been picked up for two seasons.