Getting to Know Chicago Music Producer Matthew Powers aka WhatUpDex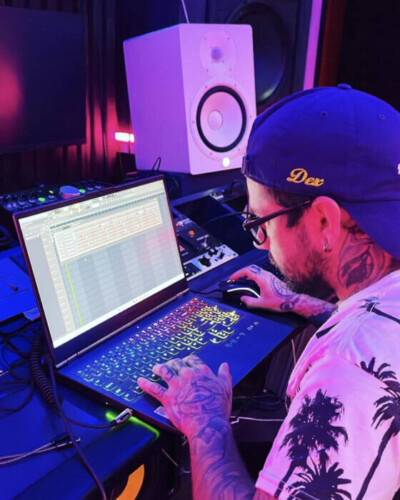 Getting to Know Chicago Music Producer Matthew Powers aka WhatUpDex
Matthew Powers, also known as WhatUpDex, is a Chicago-born music producer working hard to take the music industry by storm. With his immaculate beats to his smooth engineering, Matthew has encompassed his talent with goals and ambitions to win a Grammy someday. Today, we got an opportunity to catch up with him! Matthew, thank you for joining us today for a quick Q&A.
Q. Matthew, thank you so much for joining us today! I have to ask you, what artists or bands did you grow up listening to?
A. Thank you for having me! It is a pleasure to be here! I grew up listening to Iron Maiden, Def Leppard, Metallica, Alice In Chains, and a number of old-school rock bands.
Q. I am sure the bands you mentioned have shaped your career as a producer. At what age did you discover your talent?
A. They have definitely shaped my career! I discovered my talent for music at the age of ten years old. After I taught myself how to play guitar, I started writing songs and later producing them. The first instrument I learned how to play was the guitar, then later turned into other instruments such as drums, bass, and piano.
Q. A guitar player too? How amazing! We live in times when we hardly hear any live instruments in music anymore. As a seasoned musician what is your creative process when producing a song?
A. I like to sit down and meditate before I get into the creative process to clear my head of negative thoughts. Then I pour out any emotions I had felt that day or at any moment in the past. It is refreshing!
Q. I know that you mentioned a few bands that you grew up listening to. Who is your dream collaboration?
A. That is a great question! I would probably have to say Lil Durk, another Chicago artist or Lil Uzi Vert. I have too many to name!
Q. Throughout your journey, I am sure you have witnessed a sudden change in the music industry. What are your thoughts on the generation of artists today?
A. I believe that today's artists are amazing with their unique way of marketing and promoting their styles and lyrical content. They are more expressive with their feelings, and with what has happened in their lives and I love that!
Q. Any artists in the music industry you have mentored that have gone on to have major success?
A. You know, it's funny you asked that question! I have briefly worked with Desiigner and interned for Rick Rubin at Shangri LA Studios after I graduated from audio engineering school. That was a great moment!
Q: Anything we can expect from you this year?
A. Music, of course! My goal is to continue my journey as a music producer and putting in continuous hours of hard work to build upon my brand and career. At the moment, I am working on an upcoming single called "Things We Had," It's an EDM route that I'm venturing into.
Q: Where can we find you online?
A. I am active on Instagram & Facebook, but you can mainly find me on my website. https://mattpowersproduction.com https://instagram.com/whatupdex https://www.facebook.com/matteo.powers
© 2023, Logan. All rights reserved.