Gucci Mane Clowns Jeezy Ahead of Verzuz Battle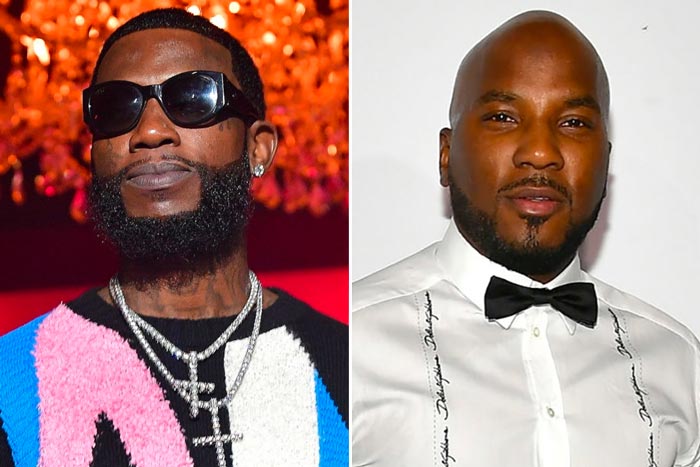 Guwop is coming for the Snowman.
Gucci Mane and Jeezy are set to go head-to-head in the highly-anticipated season opener of Verzuz. Ahead of Thursday's showdown, Gucci is fueling his storied rivalry with his fellow ATLien. In a video, which he posted to Instagram on Wednesday, Gucci took shots at Jeezy and his fashion choices.
"The Verzuz is real. Me and Snowcone will be in the same room," Guwop said while running down a hill. "But this what I wanna know, is fashion a part of the Verzuz? 'Cause I'ma have that sh*t on tomorrow and if buddy had that same funny ass shirt and the dumbass hat he had on the album cover, I ain't doing it."
View this post on Instagram
He is referring to the black beret Jeezy is pictured wearing on the cover of his new album The Recession 2, which drops Friday.
The day before, Gucci took another shot at Jeezy by posting a meme mocking the murder of Jeezy's associate, Henry "Pookie Loc" Clark, who was shot and killed by Gucci after he attempted to break into his home in 2005. Gucci was later cleared of the murder charges due to acting in self-defense.
The meme shows a man jumping someone in a courtroom and includes a caption that suggests what Gucci would tell Jeezy in their Verzuz battle.
"go dig ya partna up ni**a I bet he can't say sh*t," says Gucci, who reposted the meme and added two laughing emojis.
View this post on Instagram
Jeezy has not addressed Gucci's antics, but he appears ready for battle. "It's time. We ain't come to play," he told fans. "You know how we get down. Let me bring that black bandana out."
Watch it all go down when Gucci Mane vs. Jeezy streams live on Instagram and Apple Music on Thursday at 8 p.m. PST.
Is it Thursday yet? Forgot to set my watch. BIG SNO ⛄️ THE RECESSION 11.20.20 pic.twitter.com/C7HsUJiSYd

— Sno (@Jeezy) November 17, 2020