Ice Cube Slams 'SNL' for Mocking Him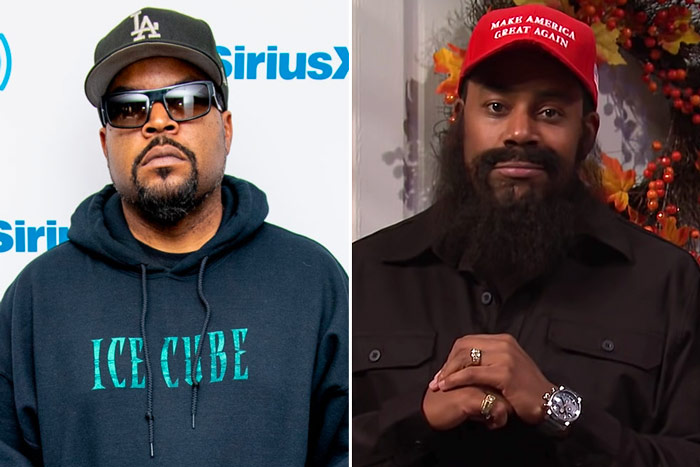 Ice Cube is firing back after he was spoofed on "Saturday Night Live."
In the cold open for this weekend's Halloween episode, Cube and Lil Wayne were mocked for associating with Donald Trump. Kenan Thompson played Cube, wearing a MAGA hat alongside Chris Reed, who took on the role of Weezy. Jim Carrey, as Democratic presidential nominee Joe Biden, asked them why they were supporting the president in the upcoming election.
"Why in the name of all that is holy would you be voting for Trump?" asked Carrey (Biden).
"Taxes!" they responded in unison.
"Plus, Trump's got a new Platinum Plan," added Reed (Wayne), while Thompson (Cube) said, "That's right! If you got a platinum record, you can plan on him doing a photo op with you."
The skit earned laughs from the audience, but Cube was not amused. He retweeted the "SNL" clip along with a scathing response. "f**k you SNL…trying to reduce me to greed," he wrote.
😂😂😂…fuck you SNL…trying to reduce me to greed. https://t.co/pObFAkOvcq

— Ice Cube (@icecube) November 1, 2020
The N.W.A rapper received criticism after revealing that he met with the Trump administration to discuss incorporating his Contract With Black America (CWBA) into Trump's Platinum Plan, which promises to increase access to capital in Black communities by almost $500 billion over the next four years.
Later in the show, Michael Che brought up Cube again during "Weekend Update," or as Che joked, "Trump's FUBU Platinum Plan for the Black community."
"I love Ice Cube but you know how many jobs he had on top of negotiating for Black people?" asked Cube. "You know why Malcolm and Martin were such great leaders? Because they weren't also working on Barbershop 4."