Illa J Prepares Release of Album "No Traffic"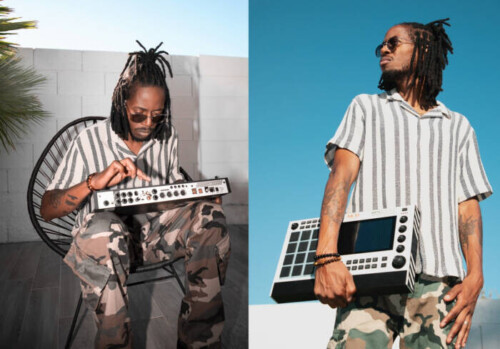 Enter the realm of Detroit born singer/rapper/producer John Derek Yancey, known by the moniker Illa J. Although maybe best known as the younger brother of hip-hop legend J Dilla and a former member of the iconic Midwest hip hop group Slum Village, Illa J has made a name for himself on his own with 100 million global streams over the span of his solo music career. With a lifetime of exposure to quality music and top-tier musicians, Illa J's forthcoming music is bound to shake the foundations of the entertainment industry.
The debut offering from the upcoming album No Traffic due out September 1 on BBE Music comes in the form of the single's titled track "No Traffic," a testament to Illa J's versatility as a wordsmith and producer. The MC finds himself waxing poetic about everything from his wife's dope creative design skills to his sold-out international tours with British soul sensation Harleighblu.
Speaking on the inspiration behind the single Illa J says, "This song "No Traffic" was originally supposed to be an Intro track with just Dank (of Frank N Dank) talking over my instrumental. However, after I built the beat around his vocals, I ended up vibing to it so much that I had to rap on it."
Amidst a minimalist aesthetic the official music video was originally meant to be a lyric video, but the visionary got carried away. With a short cameo from his wife Sarah Samira Yancey who also directed the music video to a few humorous costume changes, the visuals compliment the light hearted nature of the song.
Illa J says, "The concept for this video was to showcase me in a less serious light, it represents my silliness and pure joy of making music. I always want to have visuals that feel authentic to me. It was originally supposed to be a lyric video but my wife who directed it had the idea of making it a hybrid by also having me act out some of the lyrics while vibing to the beat."
The forthcoming album No Traffic consists of 19 tracks entirely written and produced by the virtuoso and mastered at Grammy-award nominated The Carvery Studio. The project showcases Illa J's innate gift for melodies, bars, hooks and lyricism. Created amidst the chaos of the pandemic, No Traffic serves as a beacon of hope, a roadmap for creatives seeking their path. On this project he enlisted the help of Detroit legends Amp Fiddler, Frank n Dank, UK soulstress Harleighblu, as well as local rising stars Serious, Joz B, and Maine Soul. Every single musical guest seems to be meticulously handpicked to match Illa J's energy and passion.
"This album is special to me being that it's my first self-produced solo project. I really enjoyed making this album and I'm proud to say that there are zero samples. I feel like I'm just getting started," he says.
No Traffic marks a new chapter in Illa J's musical journey, one that takes you to a place where his playful and versatile sound reigns supreme, a refreshing experience of a true artist reveling in their artistry. The title "No Traffic" represents the open lane Illa J has created for himself by
working tirelessly on his craft which now allows him to independently create his own style of
music.
[embedded content]
© 2023, Seth "Digital Crates" Barmash. All rights reserved.