J. Smith Drops Catchy Single "Bad Chick" Rooted in Personal Experience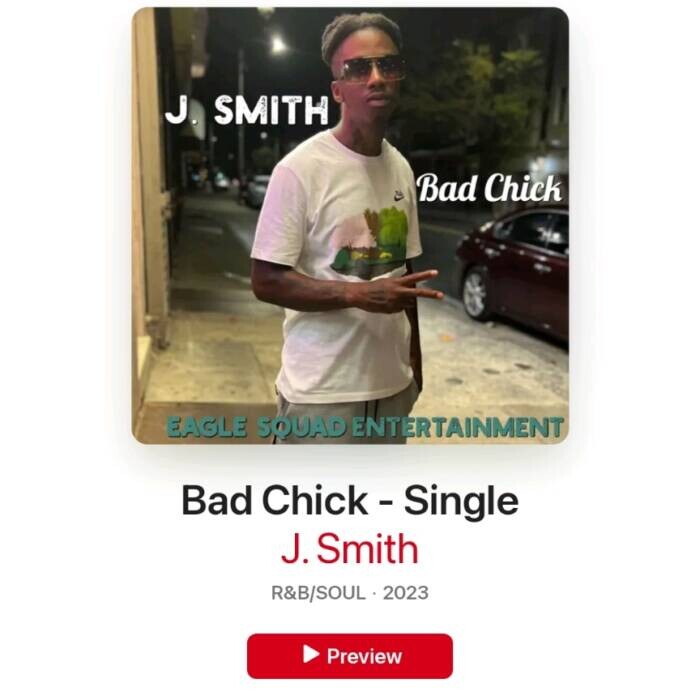 Philadelphia's music scene has been buzzing with excitement since J. Smith, a talented artist released his latest hit single "Bad Chick" on July 16, 2023. The song was released under his own label Eagle Squad Entertainment which was founded in 2018. Produced by the renowned Sweeno Sounds (@sweenology) and engineered by Justin from milkboy Recording Studio (@smoothwaveaudio), this track offers a unique blend of catchy beats and introspective lyrics that captivate listeners from the very first note.
The song's inspiration strikes close to home, as J. Smith draws from his personal experiences, reflecting on a past relationship that left a lasting impact. "Bad Chick" encapsulates a love story that unfolded over two years, narrated through Smith's distinct musical lens. The standout line, "she's super bad when she comes through but super good when she sex me," encapsulates the complexity of emotions he felt during the relationship. This blend of relatable lyrics and a vibrant musical arrangement showcases Smith's ability to connect with his audience on a profound level.
In addition to his recent release, J. Smith's upcoming live performances are highly anticipated events on his calendar. On August 12th, he's set to wow crowds in both West Philadelphia and at the renowned E Ness Cheesecake Jawn at 88 Studio in Philly. Following this, he's taking his talents on the road, with appearances on the "Industries Most Wanted" podcast in Atlanta on the 16th, as well as the Bigga Rankin Birthday Bash on the 17th. Notably, Smith's journey leads him to an opening slot for none other than Soulja Boy in Joliet, IL on August 18th, followed by a performance in Indiana on September 2nd. For booking inquiries, reach out to @therealmegastar2414.
J. Smith's "Bad Chick" not only showcases his musical prowess but also his ability to channel personal experiences into relatable and catchy tunes. With his upcoming performances, fans have plenty to look forward to as this rising star continues to make waves both locally and on the national stage.
[embedded content]

More J. Smith on YouTube
https://youtube.com/@eaglesquad2847
https://youtube.com/@JSmithVision
© 2023, MysticsEnt. All rights reserved.