Jazmine Sullivan and H.E.R. Team Up on 'Girl Like Me'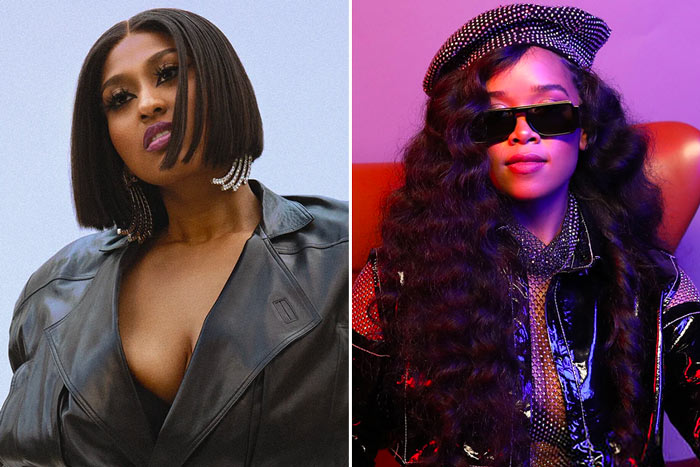 Jazmine Sullivan is set to return with her new album Heaux Tales on Friday.
Ahead of its release, she has dropped her new single "Girl Like Me," a collaboration with H.E.R. Over the guitar-driven beat, produced by BongoByTheWay, a heartbroken Jazmine reflects on finding love on dating apps following a breakup.
"I made a profile on Tinder / Said you left me to be with her / I think that means I'm getting desperate / Wish I could return to sender," she sings. "But you don't love me no more / And I don't even know what for."
She admits that the relationship has left her confused. "I just wanted something different / Still don't know what I was missing / What you asked I would have given / It ain't right how these hoes be winning."
Taking to Instagram, H.E.R. praised her collaborator. "So excited for this project. Surreal to be working with this legend!!!!!!!" she wrote.
Jazmine also revealed the cover art and tracklist for Heaux Tales, her first album in six years. In addition to the previously-released tracks "Lost One" and "Pick Up Your Feelings," the 14-track "conceptual project" features appearances from Anderson .Paak and Ari Lennox.
"Heaux Tales is about my observation of today's women standing in their power and owning who they are," explained Jazmine. "No longer is male patriarchy dictating what it means to be a 'good girl.' The truth is, women of all ages have been called a 'heaux' at some point in life, whether deserved or not, by some man trying to put us in our place; a place designed to keep us under control, out of the way and usually beneath them."
Heaux Tales arrives Friday. See the tracklist below.
Heaux Tales Tracklist
1. "Bodies (Intro)"
2. "Antoinette's Tale"
3. "Pick Up Your Feelings"
4. "Ari's Tale"
5. "Put It Down"
6. "On It" (feat. Ari Lennox)
7. "Donna's Tale"
8. "Pricetags" (feat. Anderson .Paak)
9. "Rashida's Tale"
10. "Lost One"
11. "Precious' Tale"
12. "The Other SIde"
13. "Amanda's Tale"
14. "Girl Like Me" (feat. H.E.R.)