Jeezy Disses 50 Cent and Freddie Gibbs on 'Therapy for My Soul'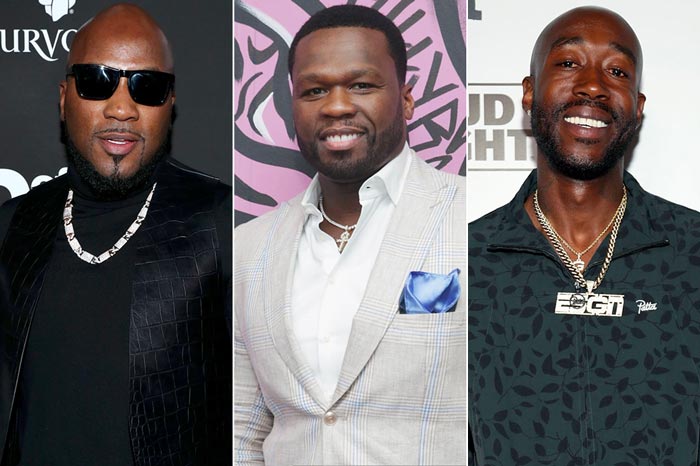 Ahead of his album release and Verzuz battle with Gucci Mane, Jeezy drops his explosive new track "Therapy for My Soul."
Over the soulful J.U.S.T.I.C.E. League production, the Snowman takes aim at 50 Cent and Freddie Gibbs, who was formerly signed to Jeezy's CTE World.
"If One-Five wasn't my dawg, I would've touched them / When that sh*t went down with Gibbs, I couldn't trust 'em / Invested my hard-earned money, tied up my bread / But he gon' try to tell you I'm flawed, that's in his head," raps Jeezy. "It's happening just the way that I said it, good on your own / And if I'm honest nothin' gangsta about you, leave this alone."
His diss follows comments Gibbs made during an interview with "The Bootleg Kev Podcast" in June, where he called Jeezy a "legend," but said he was "musically irrelevant."
Jeezy also has some words for 50 Cent, who previously called him out for not checking in with BMF co-founder Southwest T after he was released early from prison. "Since we talkin' boss talk, let's address the sucka sh*t / Grown man playin' on Instagram, real sucka sh*t," he raps. "Why the f*ck this clown ni**a playin' with my legacy? / Solid in these streets, that's some sh*t that you will never be."
He adds, "Talking 'bout power, but weak ni**as do the most / In real life, ni**a you really borrowed money from Ghost / All that lil' boy sh*t, yeah it make it evident / Made millions in these streets, what the f**k is 50 Cent?"
50 has yet to respond to Jeezy, but Gibbs clapped back on Twitter. "BMF put U in a headlock in front of me," he tweeted. "U gotta come harder than this snow flake."
BMF put U in a headlock in front of me. U gotta come harder than this snow flake. @Jeezy https://t.co/0EcAnMQZ2y

— Skinny Suge (@FreddieGibbs) November 18, 2020
"Therapy for My Soul" is set to appear on Jeezy's new album The Recession 2, which arrives Friday. But first, he will face off with Gucci Mane in the epic season opener of Verzuz, which streams live on Thursday at 5 p.m. PST.