Jeezy Reveals How He Handled Intense Verzuz with Gucci Mane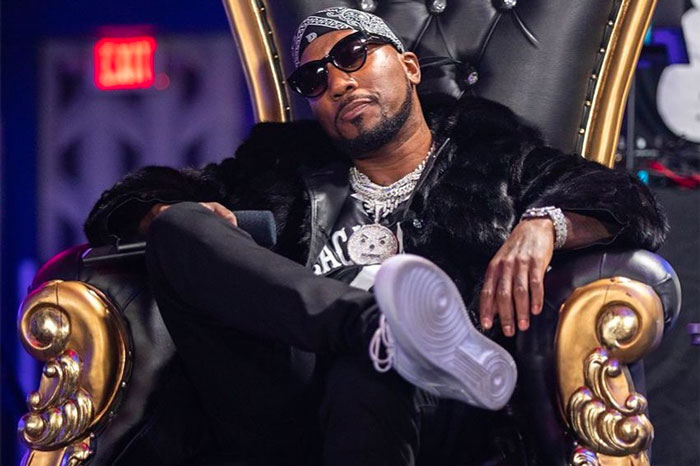 Nearly two million tuned in to watch Jeezy and Gucci Mane trade hits and jabs during a heated Verzuz battle on Thursday.
There were several tense moments during the livestream as the Atlanta rappers attempted to squash their long-running feud, which dates back 15 years.
Gucci mocked everything from the murder of Jeezy's former associate Pookie Loc to his rival's fashion. "I don't have no $10,000 outfit, but I own half of Atlanta," Jeezy fired back.
At one point, Guwop taunted Jeezy by playing his scathing diss track "Truth." "I told you straight off the dribble, we can't do nothing if it ain't street," he said. "If I can't perform the 'Truth,' we can't do it."
But Jeezy was able to be the bigger man. "When I said I wanted to do this shit for the culture, that's what I wanted to do. I brought you here to show you the world care about what the f**k we got going on 'cause we are the culture," he said before paying tribute to King Von, Nipsey Hussle, and Pop Smoke.
After all the back and forth, they ended on a peaceful note, coming together for their 2005 collaboration "Icy." "Listen, all respect," Guwop told Jeezy. "I appreciate you for throwing out the olive branch. I accept that. No disrespect, it's all love."
Whewwww this moment tho #Verzuz#JeezyvsGucciMane

pic.twitter.com/1WZvhEIdPL

— HOT 97 (@HOT97) November 20, 2020
But this was the moment of the night! ⛄️#Verzuz#JeezyvsGucciMane

pic.twitter.com/dwwTMzyV29

— HOT 97 (@HOT97) November 20, 2020
The following day, Jeezy called into "The Breakfast Club" to relive the explosive showdown and share how he handled Gucci's "disrespectful" comments.
"I looked at it like we ain't sixth graders. We not kids," Jeezy recalled. "You can't antagonize me with something that we both understand 'cause I'm not in the same mental space as I was 20 years ago nor can I let you take me there. That would have been the biggest upset in my life because I have self-control and I'm very self-aware. It's just like, 'Hold up man, if that was the case, we might as well not even came here."
Despite Gucci's repeated jabs, Jeezy remained cool, a testament to his maturity and growth over the past two decades. "I'm not that same person I was 20 years ago when that's how things spiraled out of control anyway," he explained. "I took the last 10 years to better myself because of a lot of things that happened in my life. I just promised myself that I would never put myself in those positions again because when you react and somebody gets you off your square and you acting out of anger or you acting out of anxiety, it's normally not the right decision."
Going forward, he's hopeful that he and Gucci can finally heal from their past. "As men, it's been going on almost two decades. It was a point when we were cool," he said. "The real shit that went on, that's just something me and him gonna have to figure out later on but for y'all it's just like I understand it. The more it goes on, the worse it's gonna be we like the forefront of it so anybody who's behind us, that's the way to go. Time heals all. But that was effort–it's in front of the world. It ain't even for show. It's real life–we both gotta come to grips with that. We both gotta really be men."
In the end, it was a win for the culture, with over 1.8 million viewers tuning in to see the Southern heavyweights battle it out.