Juice WRLD's Girlfriend Shares Letters He Wrote Before His Death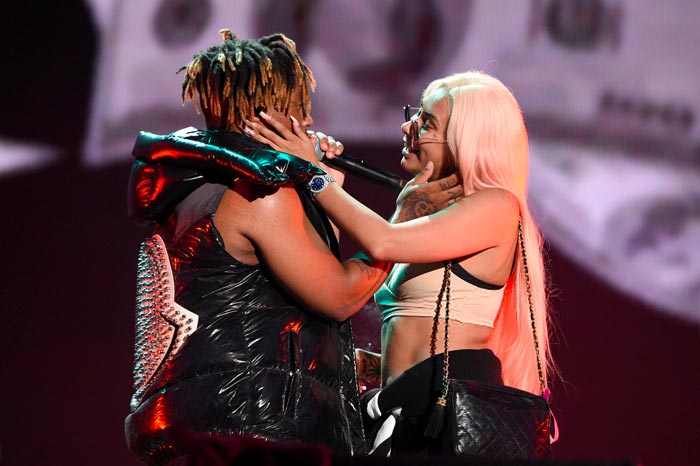 Legends never die.
On the one-year anniversary of Juice WRLD's death, his longtime girlfriend Ally Lotti has shared two never-before-seen letters that he penned months before his tragic passing. Ally tells XXL that Juice snuck the handwritten notes into her wallet, where they remained unseen until she discovered them while paying for the outfit she wore to Juice's funeral in December 2019.
The first was penned in Düsseldorf, Germany, in early 2019, when Juice opened up for Nicki Minaj on tour. In his message to Ally (pictured left), Juice writes, "You are: my sanity, my safe haven, my first and last true love, my BFF, my home… You are my everything."
pic.twitter.com/Fkc41pvPkn

— Ally Lotti (@highimallyy) December 8, 2020
Ally, who keeps the letters in her Bible, says that the second letter (pictured right) was directed at Juice WRLD's loyal fans. She believes it is her duty to spread the message and comfort them, just as she did for Juice when he needed her.
"I've been broken 4 so long without repair," the letter reads. "You fixed me permanently… So I cannot let you out my [sight]. You are my [umbrella] when it's raining, you keep me dry from my own tears and the tears of the world."
Juice WRLD died from an accidental overdose of oxycodone and codeine a week after his 21st birthday last year. In the wake of his death, his mother has launched the Live Free 999 Foundation, inspired by a slogan found on her son's favorite jacket, to help other young people dealing with addiction, anxiety, and depression.
His music lives on through recent collaborations with Benny Blanco ("Real Sh*t") and The Kid LAROI, who released their collaboration "Remind Me of You" earlier today. In July, his estate dropped his first posthumous album Legends Never Die, which debuted at No. 1 on the Billboard 200.