Juice WRLD's Mother Opens Up About His Drug Overdose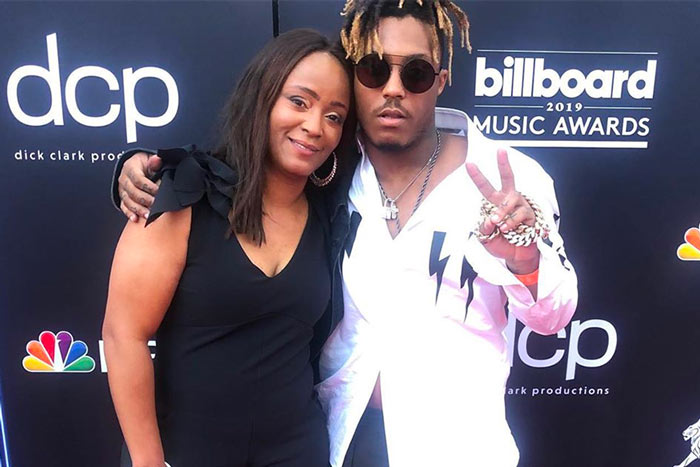 It's been nearly a year since Juice WRLD's tragic death.
Now his mother is speaking out in her first interview following the loss of her 21-year-old son last December. The medical examiner said he died from an accidental overdose after toxic levels of oxycodone and codeine were found in his system shortly after his plane arrived at Chicago's Midway Airport.
"It was devastating, but one thing I decided early on was, I was not going to hide the fact that he died from a drug overdose," Carmela Wallace said in an interview with ABC 7 Chicago.
While the world knew him as Juice WRLD, to her he was just Jarad Anthony Higgins. "Juice WRLD was an icon but Jarad was my son," she said. "I didn't treat him like a celebrity. In fact, the first time I saw him perform, it was in Chicago. I forget where, but I saw the crowd and I saw the girls and 'take a selfie with me.' He was pumped up. He was still living with me at the time and when he came home, I said, 'Take out the garbage,' because I just wanted him to stay humble."
The two had a close bond and talked about everything, including his struggles. "I said, 'If you have anxiety, then you need to get medicated properly for it instead of medicating yourself,'" said Wallace. "I talked to him about it. I told him my biggest fear was him overdosing on the stuff. That's why I made the decision I have to talk about it with other people. I can't keep that as a secret."
Wallace established the Live Free 999 Foundation, inspired by a slogan found on her son's favorite jacket, to help other young people dealing with addiction, anxiety, and depression. "That's our objective with our foundation. Normalize the conversation, so it has to start with me," she said. "I hope it's what he wanted, was a legacy of healing. To let people know that you don't have to suffer alone."