Kanye West Goes Off on Chance the Rapper in Unreleased Video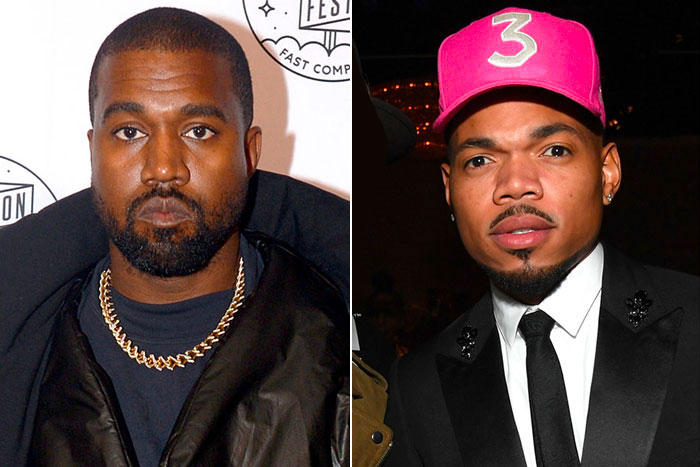 Chance the Rapper and Kanye West's friendship turned hostile at one point.
Damon Dash has shared never-before-seen footage of Chance's visit to Kanye in Wyoming while Ye was finishing his album last July. In the 30-second clip, Chance can be seen calmly approaching Kanye before Ye gets up and starts screaming at him. However, it's unclear what triggered his outburst.
"Sit yo ass down and listen to the album or leave," Kanye appears to tell Chance at one point.
In the documentary, which has since been removed from YouTube, Damon Dash explained that Chance was there to check on Kanye's well-being. "Chance, because of what he was reading, he came through just to check Kanye," said Dame. "They got into it but they worked it out. At the end of the day, Chance is there just to be a friend."
kanye screaming at chance like that his son 😳 pic.twitter.com/SkcLj7YGhh

— Young Black Jesus (@Zeekncashe) January 24, 2021
Chance reportedly flew to Wyoming to talk to Kanye following his bizarre behavior last summer, but Ye was apparently not having it and lashed out. While Chance has not addressed the video, he did like two tweets that may provide more context into the situation.
UPDATE: Chance liked some tweets confirming the context of the video. pic.twitter.com/kK5RgtJgIj

— Dedee 🥀 (@thoughtfulbae) January 23, 2021
This was around the time Kanye was dealing with his public struggles with bipolar disorder and claimed that his wife Kim Kardashian and mother-in-law Kris Jenner tried to have him committed to a mental institution. Justin Bieber, Dave Chappelle, and Damon Dash also flew to Wyoming to visit Ye.
Chance has shown his loyalty to Kanye in the past. In July 2020, he shared his support for Kanye's ill-fated presidential bid, only to receive backlash. "And y'all out here tryna convince me to vote for Biden. Smfh," he tweeted. "Yall trust Biden more than yall trust Ye. I think I understand why, I just don't feel the same way."
I finally got the answer now. I understand. Yall trust Biden more than yall trust Ye. I think I understand why, I just don't feel the same way.

— Chance The Rapper (@chancetherapper) July 13, 2020
The "Ultralight Beam" collaborators were also planning a joint album that has yet to be released. They were scheduled to start recording the project in their hometown of Chicago in the summer of 2018.
"Kanye West is like my first image of a free Black man in the industry, and I've just always loved him for that," Chance told "Windy City LIVE" in a 2018 interview. "Loved his music, loved his creativity, loved his voice, loved his fearlessness. Working under him, working with him on his albums is crazy."