Kenny Muney Drops "Holy Water" Video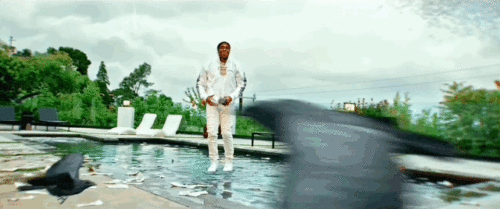 Making plays in the streets and miracles behind the mic, Kenny Muney knows that sometimes all it takes is a little bit of faith. Taking a beat to wash his troubles away, the Paper Route Empire rapper shares "Holy Water," the latest video from his Blue Muney (Deluxe) project. Sliding over a saturated trap instrumental by Yung Hurricane, the Memphis native contemplates whether his success is guided by the divine: "They say Columbus the one that found America/Judging by clarity, I found pacific/N****s can't f*ck with me, be realistic/I got the Lord on my back like a Christian."
The video for "Holy Water" opens with Kenny being baptized in a mansion's backyard pool. Proving the idiom that cleanliness is next to godliness in quite literal fashion, Kenny proceeds to perform miracles as he walks on water and stretches his bread enough to feed the streets.
The follow-up to last year's Time Is Muney, Blue Muney (Deluxe) finds Kenny locking into trunk-rattling instrumentals with surgical precision, packing more flexes into his rapidfire triplets than one can count. Released in April, the tape is home to fiery singles like the guitar-driven "Top," the soulful intro "Muney Prayer," and the Hitkidd-produced "In A Rush." Featuring additional production from Bandplay and more, with guest appearances from his PRE brother Key Glock, Money Man, Ceo Jizzle, and KATO2X, Blue Muney (Deluxe) is available everywhere via Paper Route Empire.
With Blue Muney (Deluxe), Kenny Muney shows that he has the talent and determination to succeed in the Empire-building business. Stay tuned for more from Kenny Muney and Paper Route Empire.
[embedded content]
© 2023, Seth "Digital Crates" Barmash. All rights reserved.